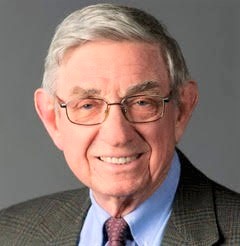 Preston Lee Durrill, 85, of Blacksburg, passed away on Aug. 3, 2021. 
Preston was born on April 4, 1936, to Everett Durrill and Alice Roberts in Fort Madison, Iowa. After high school he attended MIT, where he earned a bachelor's degree in chemical engineering and a master's degree in nuclear engineering.  In 1966, he earned a doctorate in chemical engineering from Virginia Tech.
Preston spent 37 years as a chemistry professor and the Dean of Graduate School at Radford University.  After retiring from RU, Preston worked as a professor of chemistry and chemical engineering at Virginia Tech. During his 55 years of teaching, he also enjoyed doing science experiments for students in local school districts and working with teachers to further their science accreditation. 
He was preceded in death by his parents and brother, David. He is survived by his beloved wife of 55 years, Lorraine; three children: Steven Durrill (Gwen), Beth Graham (Jim), and Linda Durrill; and eight grandchildren: Katie, Preston, Ben, Mackenzie, Zoe, Ayla, Leo, and Penelope. He is also survived by his sister-in-law, BJ Durrill.
Preston had a passion for gardening, playing tennis, and teaching science. The time and contributions he donated to Radford University and Virginia Tech, as well as to local K-12 schools, have left a lasting impression.
Preston's patient, gentle, and caring nature touched and enhanced the lives of his family, friends, students, pets, and the countless plants he nurtured. All who knew him would agree that he left the world a better place.
The family requests that all donations are made to the American Red Cross where he faithfully donated blood and platelets. A private funeral service will be held for the immediate family. A celebration of Preston's life will be held at a future date.