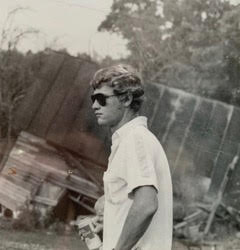 Teddy Dean Shepherd, 65, of Christiansburg, went home to be with his Heavenly Father on Monday, April 25, 2022.
Left behind to cherish his memory and legacy are his former wife and the mother of his children, Kim Hylton; sons, daughter, and grandchildren: Josh Shepherd and girlfriend, Sabrina Davis, and their daughter, Londyn Shepherd; Matt Shepherd, Kelli Linkous, and their daughter, Sophia Shepherd; and Sarah Brockmeyer, and husband, Ryan Brockmeyer, and their children, Selah and Josie. Also cherishing his memory is his mother, Ila Agee; a brother, Barry Shepherd; and a sister, Mavis Reed.
Teddy Shepherd was unapologetically authentic, blunt, unfiltered, and honest. He was a rare soul, so pure and refreshing in the fact that he felt no need to "perform" for anyone. He always said,  "There is always going to be someone bigger and badder than you," but he feared no man. You will never influence the world by being like it and Teddy embodied that. Now we will go on embracing his spirit and who he was and how he helped shape who we've become.
Teddy served our country in the United States Air Force and was honored in a graveside service at Sunset Cemetery in Christiansburg at 11 a.m. on Friday, April 29.
In lieu of flowers, the family requests donations be made to help cover funeral expenses made out to McCoy Funeral Home, 150 Country Club Drive SW, Blacksburg, VA 24060 with Teddy Shepherd in the memo.
Arrangements are by McCoy Funeral Home Blacksburg.