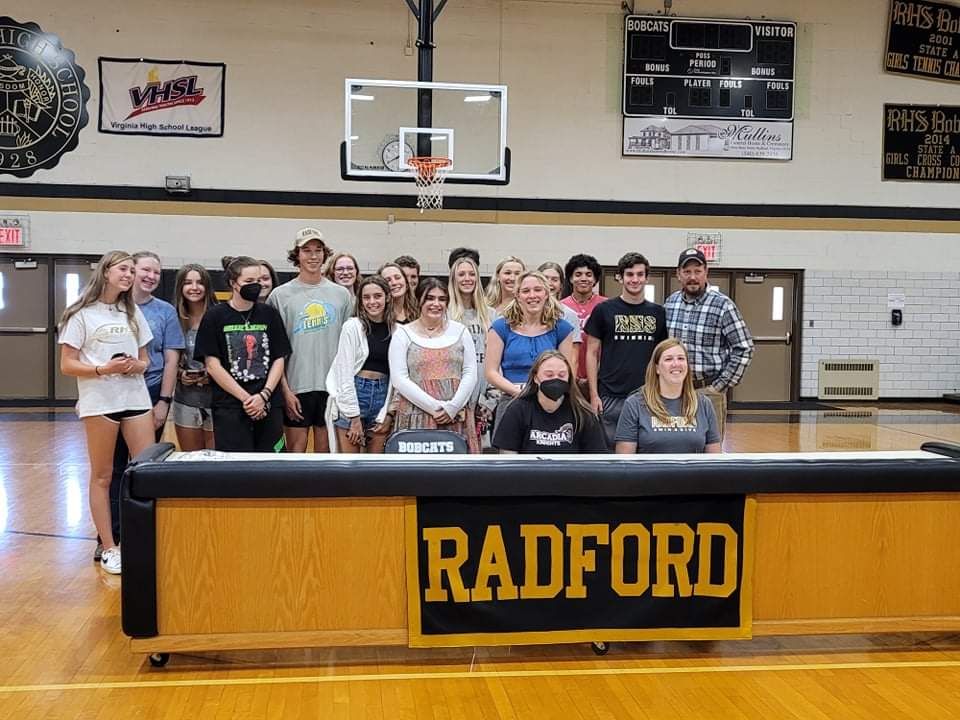 By Marty Gordon
Maggie Dent, a member of the Radford High School swim team, will attend Arcadia University this fall to continue her athletic career. She recently signed a letter of intent in the school's gymnasium in front of family, friends and coaches.
There are several reasons why she chose Arcadia. "I love the atmosphere there and I felt really at home each time I visited," she said. "Before I realized I could swim, I was very fond of their study-abroad program and their physical therapy program. When I met their swim team, they were so welcoming as well.".
Dent's time in the pool has been a successful one. As a freshman at Radford High, she qualified for state, was the Region 2C 200-freestyle champ, and followed that up with state appearances every year thereafter. This past year, Dent was part of a girls' team that finished as the state runner ups. 
Arcadia University is a private university in Glenside, Penn. The university enrolls approximately 4,000 undergraduate, master's, and doctoral students. 
University teams compete in the NCAA Division III within the MAC Commonwealth of the Middle Atlantic Conferences.
This past season at the MAC championships, the women's team finished in fifth place with 734 points and one top-three finish.
The Arcadia University Department of Athletics and Recreation announced last month the hiring of Aaron Green as the new head coach of men's and women's swimming. Green comes to Glenside after serving as the head coach and aquatics director at Hollins University in Roanoke.
Outside of the pool, Dent is a drum major for the RHS regiment marching band and is a member of the "Be The Change Club." 
Dent plans to major in global public health on a pre-physical therapy track.