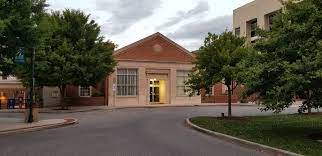 After two months of temporary closure, the Montgomery Museum of Art and History has moved operations to downtown Christiansburg and is ready to re-open its new 15,000 square-foot facility at 4 East Main St. in downtown's post office square.
The soft opening, scheduled for Wednesday, June 22, will feature many celebratory moments, free family-friendly activities, and brand-new history and art exhibits. The opening will be celebrated in conjunction with Give Local NRV, a non-profit giving campaign administered by the Community Foundation of the New River Valley.
The day will begin with a ceremonial ribbon-cutting by the Montgomery County Chamber of Commerce at 9 a.m. with brief remarks by Chamber President Anna B. Buckalew, Christiansburg Mayor Mike Barber, and Museum Director Casey Jenkins. Pastries and coffee will be served until 10:30 a.m.
A children's bouncy house will be on-site in the back parking lot from 10 a.m. until 3 p.m. along with additional arts and crafts activities inside the building. Wonder Universe: A Children's Museum will also be on-site with coloring books and a "What would you put in your museum?" activity from 10 a.m. until 2 p.m. A bubble machine will be available for children outside in the back parking lot.
At noon, a celebratory cake cutting will take place in the main lobby of the museum to commemorate the soft opening with brief remarks. Story Time with Joelle will take place inside the museum at 12:30 p.m. and at 2:30 p.m.
The fun will continue through the afternoon with a "bonus" happy hour at 4 p.m., which will signal the official opening of a free art show featuring 26 artists across the NRV. This meet-the-artist reception will cap off the day and run through 7 p.m. Free wine and cheese will be available. For more information on the artists, please visit www.montgomerymuseum.org. The show will be on display through the summer, ending Aug. 31. New history exhibits "Image of the Past," "Time Travels," and "Documenting History" will be revealed.
Throughout the entire day, the museum will collect donations for Give Local NRV. This year, the donations will be matched dollar-for-dollar up to $17,700 by the museum. Donations will help the museum provide new cultural programming in its new, re-imagined facility. Donations can be made online at https://www.givelocalnrv.org/organization/Mmah or in-person and by cash/check.
Admission to the museum is free, and parking is available behind the museum and on Main Street in downtown Christiansburg.