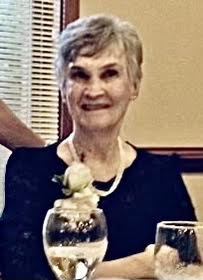 Barbara Clark Elliott, 89, passed away Friday, Nov. 18, 2022.
She was reunited with her husband and true love Bobbie Joe "BJ" Elliott. Barbara and BJ were married September 15, 1951, in Prices Fork.
Leaving behind to cherish her memory are her son Robert Steven Elliott and his wife, Sheila, of Pembroke; her daughter Susan Elliott-Reed and her husband, Phil, of New Castle; her grandson and the apple of her eye, Robert William Elliott and his wife, Kenley, of Radford; dearest sisters Pat Linkous of Andersonville, Tenn. and Maggie Clark of Stanleytown, Va.; nieces Kathy Bingham (Ted) and Cindy Smith (Nathan), both of Andersonville, Tenn; a great-niece and great-nephew, Elizabeth and Travis Bingham; and beloved friends Sally Elliott and Liz Lindon, both of Blacksburg.
Barbara was a long-time employee at Virginia Tech in the Dairy Sciences department. She loved spending time with her sisters, her family, and her friends. She also enjoyed reading, watching game shows, furry friends, and her fish ponds.
The family received friends. on Tuesday Nov. 22, 2022, at McCoy Funeral Home. A funeral service was also held at McCoy Funeral Home, and interment followed at Roselawn Memorial Gardens in Christiansburg.