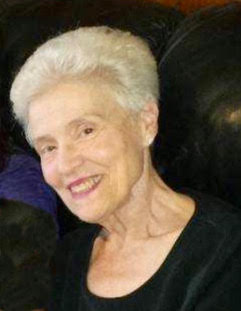 Shirley Mae Baber, 81, of Blacksburg, finished her earthly work on the 19th day of November, 2022. 
She was born in the community of Level Green in Craig County, Va. on August 13, 1941, to the late Billy Thomas and Christine Baber.  
She is survived by her three loving and diverse sons, Ashley Thomas Dudding of Yorkville, Ill., Travis Clark Dudding of St. Catherine's Ontario, Canada and Jonathan Clay Dudding of Christiansburg; daughters-in-law, Kristin Dudding, Roya Mir and Deborah Kirby; grandchildren, Kaitlyn Brooke Dudding, Caleb Thomas Dudding and William Thomas Dudding; her sister, Barbara Baber-Martin and brother-in-law, Larry Martin of Christiansburg; niece Sally Ann Howard; and nephews Chris Myers and Brad Martin. Barbara was a pillar of support and compassion in the months and days leading up to her sister's passing. William Thomas Dudding, her ray of sunshine and gift from God was a blessing in Shirley's life. The two spent the last eight years molding their special friendship and strengthening each other's walk through life.  
Shirley worked 42 years for Virginia Tech, including time spent as former University President Dr. T. Marshall Hahn's secretary. She was proud to grow her career with the university and spoke often and fondly of her friends, colleagues, and students that she met throughout her tenure. The joy she felt from her work with Virginia Tech was something that prevailed in her mind, even up until her final few days, despite her retirement years prior from the College of Agriculture and Life Sciences.
She was welcomed to Heaven into the loving arms of those that preceded her in death: her grandfather and grandmother, Benton P. and Dove Mae Fisher; her parents, Billy Thomas (who she had been anxious to see again for a long time) and Christine Baber; her sister, Judy Myers; and grandson, special angel, Joshua William Dudding. 
The family received friends on Friday, Nov. 25, 2022, at McCoy Funeral Home, 150 Country Club Drive SW, Blacksburg, Virginia 24060 and a service followed. Graveside service followed at the Level Green Christian Church Cemetery in Newport, Va. 
Shirley's two most favorite things, Carol Lee Donuts and coffee, were served prior to the service.