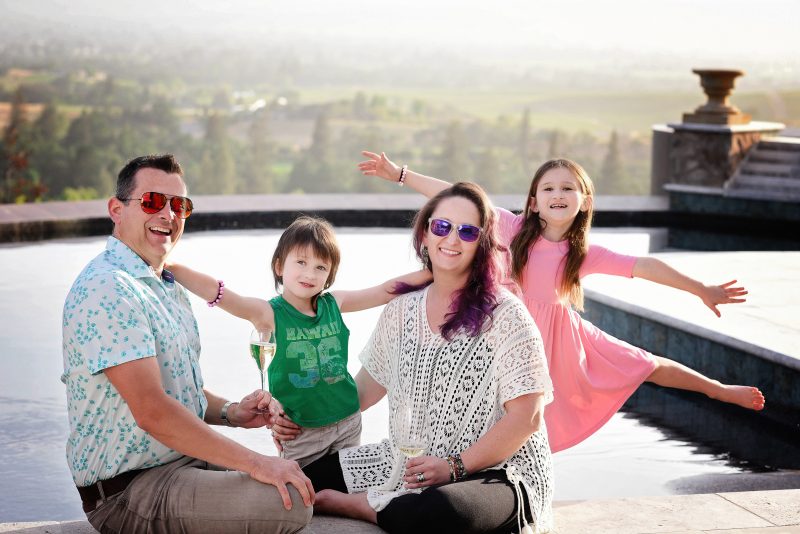 By Jimmy Robertson
When Zak and Shawna Miller took a vacation to northern California to visit one of Zak's old college roommates, they drove through Napa Valley, the nation's epicenter of winemaking.
After a few glasses and a little thought, they decided to pop the cork on a career change.
"We stopped through wine country, and I was like, 'You've got to be kidding me. This is really a job? This is so me,'" Shawna said.
The couple knew little about the winemaking process. They barely knew chardonnay from cabernet. But 16 years later, these two Virginia Tech alumni, who both hold degrees in forestry from the College of Natural Resources and Environment, own their own small but successful brand of wines, and Shawna stands as one of the top winemakers in the country. 
Today, Earthshine Wines, which produces about 500 cases of wine annually, can be purchased through the business' website or sampled at Mia Carta Wine Lounge, a collective of premium boutique Napa Valley producers located in downtown Napa.
People travel from all over the world to wine and dine in Napa, and a variety of Earthshine Wines from Shawna, a Christiansburg native who was recognized last year as one the most influential female winemakers in the world by Decanter Magazine, is available for their palates.
"It's great to receive those kinds of accolades," Shawna said. "But it's kind of a grain of salt for me because I just try to make the wines that I like and I think that our loyal fans will like. But it is always nice to get something that we can put in a magazine."
The Millers' journey and subsequent successes started with that trip to Napa in 2006. At the time, they were both putting their forestry degrees to use in positions in Gainesville, Fla. Not fans of humidity, alligators, and mosquitoes, they were seeking to leave Gainesville anyway, and the trip to Napa opened them to new possibilities.
"We thought, 'OK, we have forestry degrees. It's plant science. Viticulture is not exactly the same thing, but they're very similar,'" Shawna said. "I applied for a job and came out to work the harvest season, and he [Zak] was kind of like, 'Oh yeah, whatever. I'll see how it goes.' Then after working in a winery, he got the bug, too."
"She loved it and wanted to come out, and I was like, 'Alright, let's do it,'" Zak said. "I don't think we intended to stay. I don't think we even considered that was an option. We just thought it'd be fun for the harvest or something for maybe a year. Stars were aligned, and here we are still 16 years later."
Their aspirations could have died on the vine in a competitive industry that produced a $276 billion impact on the American economy this past year, according to WineAmerica. Instead, they flourished.
"We just kept going and going and going, and every harvest, you learn something new," Shawna said. "Every harvest is different because all the other factors of weather and this and the other are always different every single year. It keeps things interesting, for sure."
Zak eventually landed a job with Domaine Carneros, a high-end winery that specializes in sparkling wines, and he has been there ever since. Shawna earned her extension winemaking certificate from the University of California Davis and worked for a couple of different wineries before landing a position with Luna Vineyards that allowed her to run the winemaking operation, which she did for approximately a decade.
That job also provided them with a large opportunity.
The owner of Luna Vineyards passed away suddenly early last year, and the family needed to sell the winery quickly. Shawna saw this as an opportunity to turn her success at Luna into a venture of her own. With their encouragement, she worked out an arrangement with the family to acquire some of the wine in the cellar to start her own brand, Earthshine Wines.
The Millers knew they would not be able to afford a vineyard. The land, the grapes, and infrastructure would cost into the millions, and they refused to take on such a large risk.
Instead, they agreed to rent a small winery space from a friend and assume Luna's grape contracts with local landowners. Zak would keep his job with Domaine Carneros, and Shawna would start the family's winemaking brand — named Earthshine, a term coined by Leonardo da Vinci, who described a crescent moon at sunset as "the new moon taking the old moon in her arms."
In essence, the Millers are honoring the past of Luna Vineyards and moving forward. The move has left them feeling anything but sour grapes.
"I never said, 'No, we shouldn't do it,' but it really was outside of my comfort zone and any plans that I'd ever had," Shawna said. "I was very, very happy working at Luna Vineyards, and I probably would have stayed there for a long time because they were a great family to work for.
"The wine business can be competitive because there's a lot of people that want to get into it, so I was definitely nervous," Shawna said. "But I think sometimes the universe tells you to do something by way of making it happen for you whether you want to do it or not. So even if it doesn't work, I've definitely learned a lot and it's been interesting."
So far, everything has been working smoothly aside from the occasional hiccup. Shawna handles the winemaking and the business details while Zak plans the parties.
According to Shawna, Zak has the personality to handle such a role. In fact, he ordered Earthshine Wine business cards. His title on the card: "Trophy Husband."
"She was like, 'What do you need cards for?'" Zak said. "I'm like, 'Well, you know, the party planner's got to be out meeting people and drumming up business, so I need something.' That's my title on the card, just a tongue-in-cheek joke, but we have fun with it."
 Fun lies at the heart of their business model. The Millers host many dinner parties at Mia Carta and even held one a few months ago for a group of Virginia Tech alumni. They hope to work out the details for a spring dinner party in Blacksburg when they return to the New River Valley for the holidays to visit Shawna's family in Christiansburg and Zak's family in Harrisonburg.