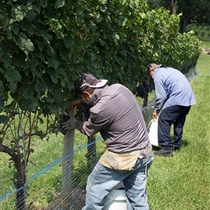 The president of the Virginia Farm Bureau Federation said that the General Assembly's passage of full funding for agricultural best management practices is a historic decision.
"Virginia Farm Bureau—on behalf of our state's farmers—has been advocating for full funding of agricultural best management practices since 2009," Virginia Farm Bureau President Wayne F. Pryor told farmers from across the state during the organization's 2022 Annual Meeting of Voting Delegates.
A total of $295 million for the July 1, 2022, through June 30, 2024, biennium was allocated in the state budget to help farmers implement conservation practices.
"This is an unprecedented amount of funding," Pryor said. He advised the farmers in attendance that if they were considering implementing conservation practices on their farms, now is the opportune time to do so.
"Farmers have always been stewards of their land, and they want to continue preserving our natural resources for the next generations, but conservation practices can be costly," Pryor said. "Now that this funding has been allocated, I know many of you will take advantage of this opportunity to improve the state's farmland and help keep our waterways healthy."
Pryor also noted that Virginia Farm Bureau helped ensure that $1.55 million was included in the state budget for retention of Virginia Cooperative Extension agents and for hiring additional agents.
"The boots on the ground that these agents provide is invaluable to our farmers," Pryor said.
Pryor told Farm Bureau's volunteer leaders that 2022 was overall a successful year for the organization.
Farm Bureau not only met its membership goal for a sixth consecutive year, but then went on to surpass it by nearly 900 additional members, counting 133,163 members for 2022. "This is truly remarkable, and we couldn't have done it without all of your help," Pryor told county Farm Bureau leaders.
Another success in 2022 was a record-breaking amount of donations raised for Virginia Agriculture in the Classroom, which provides free agriculture-themed resources to educators. A total of $430,000 in donations was raised this past year, Pryor reported.
He said that Virginia Farm Bureau continues to focus on farmers' mental health and stress management.
"We partnered with the Virginia Department of Agriculture and Consumer Services, which launched a new AgriStress Helpline to provide farmers with mental health support," Pryor said. The helpline is available 24 hours a day, seven days a week, and is staffed by crisis specialists who have access to Virginia databases of agricultural and health resources.
Additionally, Farm Bureau is collaborating with the Virginia Department of Agriculture and Consumer Services and other organizations to offer workshops for people who routinely interact with farmers. Targeted toward co-op employees, farm supply businesses, Virginia Cooperative Extension agents, and loan officers, the workshops will help them recognize signs of stress and mental health difficulties.