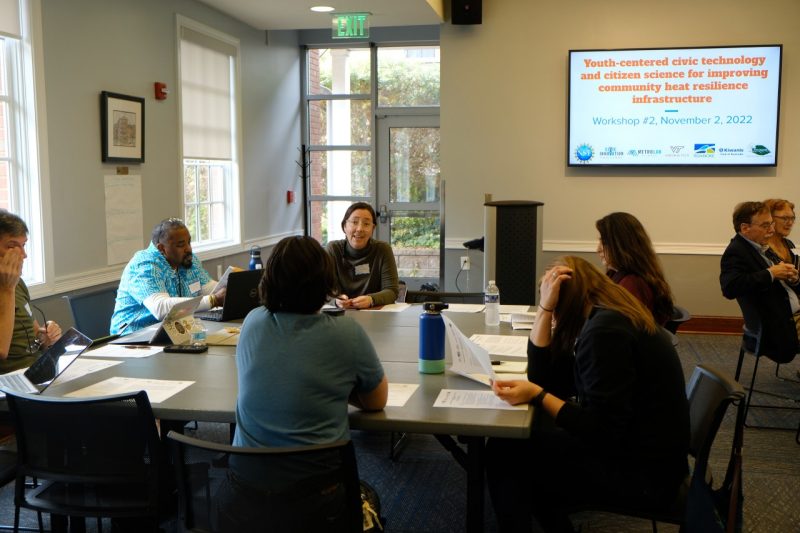 By Barbara L. Micale
Each year, heat waves kill more Americans than any other natural disaster. Climate change has exacerbated the problem by creating measurably higher temperatures in areas of cities with fewer economic and social resources to mitigate the impacts of heat, according to Theo Lim, an assistant professor of urban affairs and planning at Virginia Tech.
Lim is leading a multidisciplinary Virginia Tech research team that is partnering with the City of Roanoke to help residents survive, adapt, and thrive through high temperatures and heat waves.
The six-person team received a Stage 1 Civic Innovation Challenge (CIVIC) Planning Grant, funded by the National Science Foundation. The challenge supports rapid implementation of community-driven, research-based pilot projects that address heat resilience priorities.
The five co-investigators for the project are: Naren Ramakrishnan, the Thomas L. Phillips Professor of Engineering at Virginia Tech and director of the Sanghani Center for Artificial Intelligence and Data Analytics; Jake Grohs, associate professor and assistant department head of Graduate Programs in Engineering Education; Julia Gohlke, associate professor in the Department of Population Health Sciences; Eric Wiseman, associate professor in the Department of Forest Resources and Environmental Conservation; and Thomas Pingel, associate professor of geography.
The team is conducting a series of workshops with Roanoke leaders in academia, government, public schools, nonprofits, and other community-based organizations to identify their primary concerns and needs. Ultimately, the researchers will develop a proposal to create a citizen science program that will train city youth to collect, monitor, and communicate data on temperatures in the city and how residents experience heat.
Research scientists David Moore and Lara Nagle, both with the Institute for Policy and Governance at Virginia Tech, are involved with the project.
Catherine Cotrupi, a Ph.D. candidate in higher education and former assistant director of campus and community engagement at Virginia Tech who is working with the research team, has been helping organize workshops with city officials and community-based organizations.
"I'm excited to be supporting these efforts," Cotrupi said. "The essence of the land-grant mission of teaching, research, and service is to listen to community challenges and collaborate on solutions derived from academic study."
From 1950-90, Roanoke had relatively mild summer temperatures with an average of 1.6 days a year reaching 95 degrees and higher. However, with climate change, the average number of 95-plus degree days each year could increase to 9.6 days by 2030 and 14.1 by 2040. In 2022, nine days had temperatures above 95.
One aspect of heat vulnerability that has not yet been quantified is the risk that residents face in their homes and doing daily activities.
The citizen science program will equip hundreds of middle school and high school youth with wearable temperature sensors that will provide a better picture of how residents handle the heat across the city. These youth also will be trained to conduct surveys and interviews in their own communities to better understand the viability of potential approaches to mitigating high temperatures, such as increasing vegetation, or helping residents cope with heat, such as opening more public air-conditioned spaces.
They also will take photos to document the information-gathering process, which is a research method known as "photovoice."