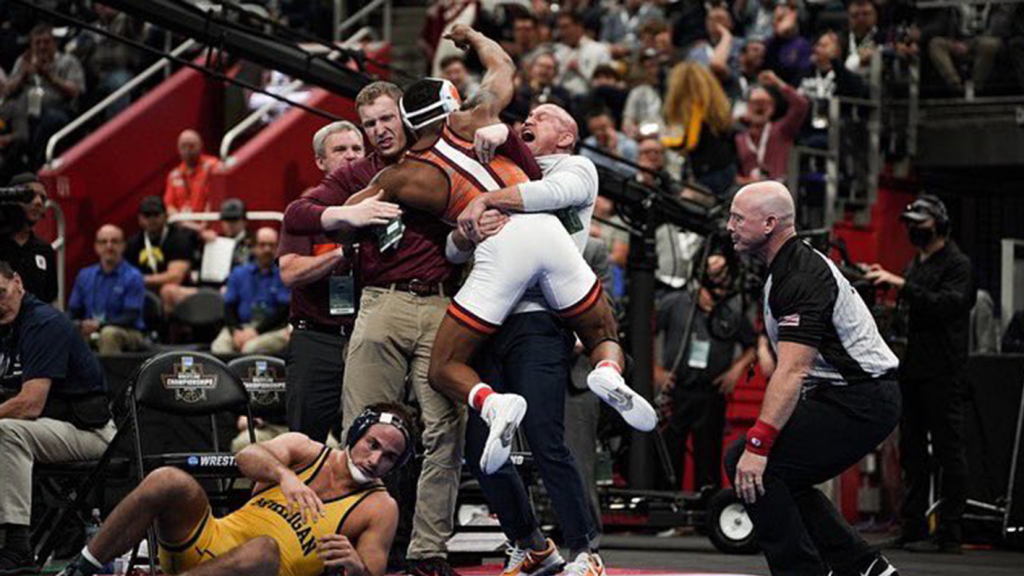 The "Moments of Excellence"campaign will serve as a look back to the historic highlights and
memorable accomplishments of Tech athletics in 2022.
Hokies wrestling finished eighth at the 2022 NCAA Championships in Detroit, the ninth time
the team finished in the top-11 in the past eleven seasons. Tech also claimed three All-American honors for the ninth straight season, one of only four programs to accomplish this feat.
Mekhi Lewis, the first national champion in program history, made history yet again by becoming the program's first two-time finalist.
The Hokie wrestlers finished the season ranked eighth and garnered three All-America honors at the 2022 NCAA Championship in Detroit. Paced by All-American finishes by Mekhi Lewis, Korbin Myers, and Bryce Andonian, the Hokies scored the fourth-most points in program
history at the national championship.
Virginia Tech's first national champion, Mekhi Lewis's runner-up finish at the nationals and two other All-Americans in two-time All-American Korbin Myers and first-time All-American Bryce Andonian extended Tech's three or more All-American streak to nine straight seasons. Only three other programs can make the same claim: Penn State, Iowa, and Cornell.
In his first season at a new weight and returning from injury after medically withdrawing from the 2021 NCAA Championship, Lewis made the finals for the second time in his
career by pinning No. 3 Logan Massa (MICH) in the third period of their semifinal match on Friday night. Lewis also was a national champion in 2019.
He made history as he became Tech's first two-time finalist.. His path to the finals included wins over #31 Dennis Robin (WVU), #18 Lance Runyon (UNI), #10 Clay Lautt (UNC), and #3 Logan Massa. Lewis fell in the finals to defending national champion, No. 1 Carter Starocci of Penn State via a 5-4 sudden victory rideout criteria in the most entertaining final of the night.
Lewis won the national championship in 2019 by dethroning two-time defending national champion Vincenzo Joseph of Penn State.
Bryce Andonian had a breakout year culminating in a third-place finish in his second trip to the national championships. Andonian was on brand with his must-see TV, putting on arguably the top-three most entertaining matches in the tournament. He was electric all weekend  in picking up wins over Max Brignola (LEH), Jon Jon Millner (APP ST), and Austin Gomez (WISC) before falling to Ridge Lovett (NEB) in the semifinal.
Andonian secured his first career All-American status by pinning No. 3-seeded Austin Gomez in an exhilarating bout start to finish. Andonian then took Lovett to the wire in the semifinal match but fell just short as time expired. The Hokie secured his third-place finish with a second win over Austin Gomez on the back side to put an exclamation point on his year that started with a Junior World bronze medal finish back in September 2021.
Korbin Myers ended his illustrious career as a two-time All-American with a sixth-place finish in Detroit. He made it to the quarterfinals of his fifth NCAA tournament before falling to Austin
Desanto of Iowa. Myers handled Matt Ramos (PUR) in the consolation bracket to secure his second All- American honor and help propel the Hokies to a top-10 finish, the first since 2018 and the third in head coach Tony Robie';s time at the helm.