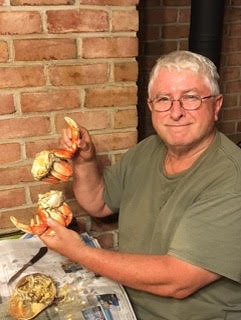 Loving and cherished husband, father, brother, and grandfather Bernard Anthony Burke, 79, of Blacksburg, went home into the arms of the Lord on Jan. 2, 2023. 
Born in Chester, Pa., Bernie worked for Sun Oil Company for 30 years. He enjoyed raising World Class White Tail Deer at his Raptor Ridge Deer Farm in Breezewood, Pa. In his spare time, he enjoyed creating ecosystems to support wildlife, especially frogs, fish, and waterfowl. He enjoyed visits from family and friends and was always the life of the party. His sense of humor and infectious laugh always filled the room with spirit and cheer. He will never be forgotten. 
Bernie was the beloved son of the late Thomas Joseph and Florence Myra Conrad; cherished brother of Thomas Burke and the late Genevieve Schmidt. He is survived by his loving wife of 52 years, Sarah; daughter Shannon (Rory Maguire), son Bernie (Shelby), and son Brian (Lauren); and grandchildren Erin, Alison, Connor, Flynn, Joshua, Shane, Ava, Camilla, Mackenzie, and Hannah. 
In lieu of flowers, trees can be planted in Bernie's name at alivingtribute.org. A Memorial Mass will be held, Saturday, Jan. 7, 2023 at St. Mary's Catholic Church at 11 a.m.