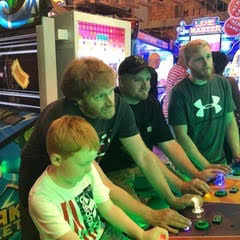 Darryl Eanes, 56, of Christiansburg, went to be with the Lord on Feb. 7, 2023.
He was born in Radford on March 26, 1966, to Fred and Lorene Eanes. He was a kind, gentle, loving man who adored his family and friends.
He was preceded in death by his father, Fred Eanes; a sister, Linda Price; grandparents Cleophas and Blanche Eanes; grandmother Sylvia Morehead, better known as Mamaw Head; aunt Helen Crawford, and uncle Earl Moore.
He is survived by his wife, Debra Eanes of Christiansburg; his oldest son, Brandon Eanes, and his wife Ashley, of Martinsville; and his youngest son, Travis Eanes and his wife, Casey, of Dublin. He was blessed with his precious grandchildren Treavor, Logan, Kylie, and Harper.
He is also survived by his loving mother, Lorene Eanes, of Radford; brother Scott Eanes, of Radford; and brother Richard Eanes and his wife, Sue, of Christiansburg.
He had a special bond with his aunt, Betty Ann Moore, of Radford; and his uncle and aunt, Billie Eanes and Marie. He was more of a little brother to his aunt, Kathy Dawson, of Colorado, and older brother to his niece, Jessica Martin, and her husband, Scott, of Radford.
He loved all his nieces and nephews: Patrick Eanes and his wife, Saera, and daughter and son, Ellie and Link; Justin Eanes and his girlfriend, Briana; Natasha Neel, Chelsey Gravely and fiancé Dustin Andrews with daughters Renesmae and Willow, and Mason Martin. 
He was loved by father and mother-in- law Sebert and Jean Rorrer, of Radford; brother-in-law Mike Rorrer and wife, Marie, of Christiansburg, Bill Rorrer and wife, Ellen, of Christiansburg, and Mark Rorrer of Radford.
Funeral service will be conducted Monday, Feb. 13, 2023, at 2 p.m. at the McCoy Funeral Home Chapel with Beaver Terry officiating. Interment will follow in the Sunset Cemetery. The family will receive friends from 5 to 7 p.m. on Sunday, Feb. 12, 2023, at McCoy Funeral Home, 150 Country Club Dr. S.W., Blacksburg.