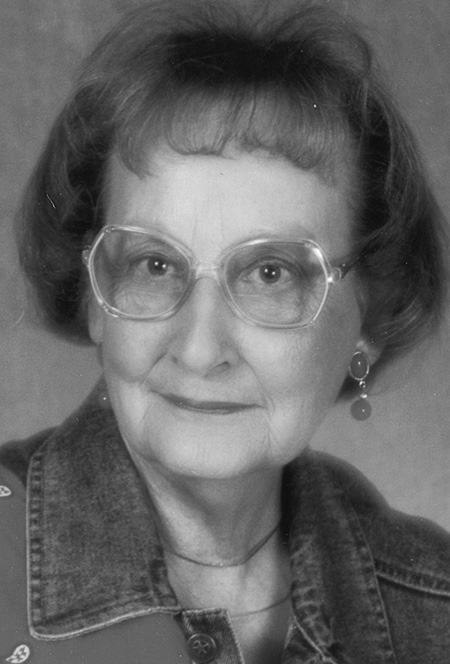 Zelma Izell Tolbert Goad, 95 of Hillsville, passed away peacefully at her home on Feb. 9, 2023.  A deeply religious woman, she was born on April 8, 1927, at the Tolbert homeplace on Burks Fork Creek in Dugspur to James Mack Tolbert and Della Sutphin Tolbert.
In addition to her parents, she was predeceased by all her siblings: Ray, Edith, Arvin, Hobert, and Clyde.
Her husband, Ornie Goad, died in 1963, and her oldest son, Arlin Ornie Goad died in 1997.  Upon the passing of her husband, she dedicated her life to raising their four children, who at the time were 10, seven, four and one-year-old.
In seeking a better life for them, she sold the farm in 1964 and moved the family to Hillsville.  She eventually gained employment at Sprague Electric Company and worked there for many years until her retirement.  She insisted her children obtain a college education and they all did, becoming a teacher, a business woman, a dentist, and a lawyer.
Zelma is survived by three children: Deborah G. Sandoe, Marlon A. Goad, Gregory G. Goad, and a daughter-in-law, Laura C. Goad.
She was especially proud of her 10 grandchildren: Laurin G. Davis (Steven), Danielle Goad; Jacob Sandoe, Jackson Sandoe (Sunny); Caitlyn G. Criner (Dereck), Kristopher Goad, Thomas Goad, Lindsey Goad, Alexis Goad; and Sophia Goad.
Seven great-grandsons also survive: Lane Sandoe, Luke Sandoe; Trip Criner, William Criner, Graham Criner, Benjamin Criner; and Jordan Goad.
The family will receive friends at the Vaughan-Guynn-McGrady Chapel on Thursday, Feb. 16, 2023, from 6 -8 p.m..
Funeral services will be at the funeral home on Friday, Feb. 17, 2023, at 2 p.m. with William A. Gunter and Danielle Goad officiating. Burial will follow in the Tolbert Cemetery at the old homeplace, next to her husband.  A guestbook is available online by visiting www.vaughanguynnandmcgrady.com. Vaughan-Guynn-McGrady Chapel is serving the family.
The Lord God is my strength and he will give me the speed of a deer and bring me safely over the mountain.  Habakkuk 3-19