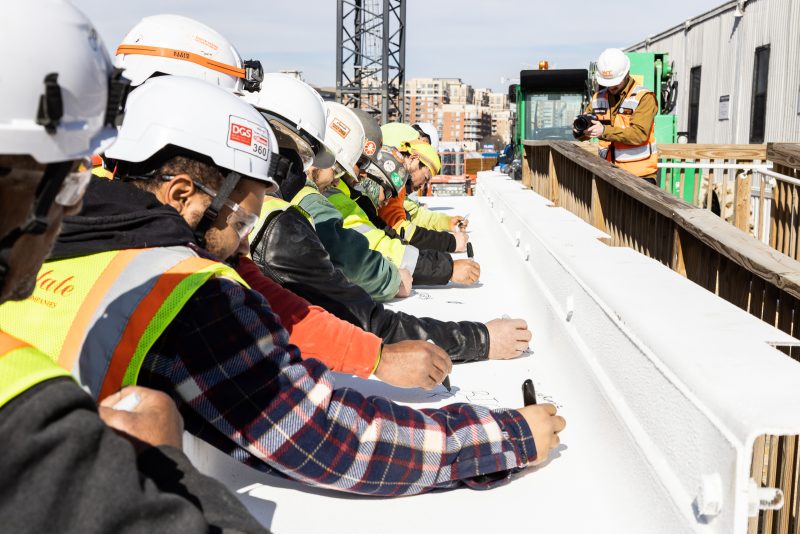 By Franki Fitterer
More than 275 community members, partners, and friends joined Virginia Tech and Whiting-Turner Contracting Co. on Feb. 7 to celebrate the next milestone for the Virginia Tech Innovation Campus: the topping out ceremony. The event featured a program inside the first floor of the Virginia Tech Innovation Campus construction site and the ceremonial lifting of a steel beam to the highest point – the 11th story – of Academic Building One.
"This is a significant moment for Virginia Tech, symbolizing the tremendous progress we have made on both construction and academic planning for the Innovation Campus," said Virginia Tech President Tim Sands. "The Innovation Campus will be an important source of tech talent for the greater Washington, D.C., region — and is vital to Virginia Tech's growing presence in the area. I look forward to 2024 when we welcome students, faculty, and the community into this remarkable building."
A topping out is traditionally held when the last beam of a building's main structure is put into place. The 37-foot beam was signed by hundreds of construction workers as well as alumni, university leaders, faculty, community supporters, and partners involved in the project. Afterward, it was secured on the northeast side of the building's top floor. 
Tuesday's ceremony gave Virginia Tech and Whiting-Turner a chance to recognize contributors involved in the project's efforts. The program was held in what will eventually be the Innovation Campus' 355-seat auditorium and featured remarks from Sands, Innovation Campus Vice President and Executive Director Lance Collins, University Architect Liza Morris, Alexandria Mayor Justin Wilson, Whiting-Turner Project Manager Summer Cleary, Bailey Edelson from JBG SMITH, and Innovation Campus Advisory Board Chair Sanju Bansal.
"We are building a tech community perfectly positioned to connect talented students with Northern Virginia's growing tech ecosystem," said Collins. "In this process, details matter, and I am thankful for the contributions of everyone involved in the planning, design, and construction of our campus to date." 
Virginia Tech broke ground on the Innovation Campus in September 2021, and construction is on schedule for a fall 2024 opening. The construction project has included digging two stories below ground to put in an underground parking garage and building out the 11-story, 300,000-square-foot steel structure. Over the last 18 months, more than 1,150 workers have contributed to the project. They have worked more than 277,000 hours, erected 3,300 tons of structural steel, poured 13,500 cubic yards of concrete, and pumped 41.5 million gallons of water from the site.
"I am extremely proud of the hard work, dedication, and precision of each and every worker and sub-contractor who has helped with this project," said Cleary, a Virginia Tech alumna who is leading a project for her alma mater for the first time. "This building is unique, and we are all excited to see the next phases of the construction come to life."
Today, there are close to 300 Innovation Campus master's students in Northern Virginia, focused on computer science and computer engineering. Enrollment numbers for spring 2023 will be finalized in late February. And with the addition of the Boeing Graduate Scholars program, among other scholarships, the campus continues to increase access to an advanced computer science and computer engineering education for students historically underrepresented.
At its full build-out, the Innovation Campus will host approximately 750 master's and 200 doctoral students and graduate 550 master's and 50 doctoral candidates annually. 
The university expects to welcome students, faculty, and staff into the completed building in the fall of 2024. Students are currently based at the university's Falls Church location. Future plans for the Innovation Campus call for two other campus buildings, measuring about 150,000 square feet each, to be built as the campus grows.