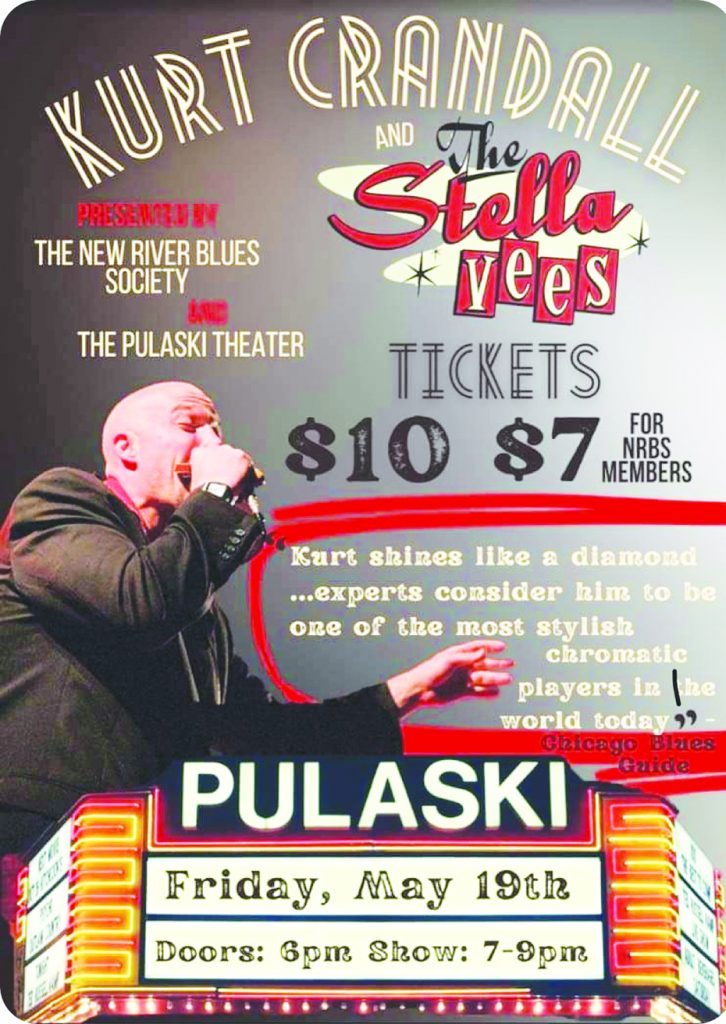 Lori Graham
Contributing writer
The New River Blues Society is on a mission: to provide opportunities for area community members to experience blues music and preserve its history. 
Vernon Kelley, President of the New River Blues Society, shares that blues events are primarily held in the New River Valley at any venues that can pair up with the organization. The last couple of years saw some series of events postponed due to the pandemic; however, one returning event will be Blues, Brews, and Bloodys, held Sunday afternoons from 2-5 pm, June-September, at Eastern Divide in Blacksburg. 
Another event series happens on Wednesday nights at the Rising Silo in Blacksburg. Patrons in attendance will find a mix of musicians, locals, visitors, and of course some of the New River Blues Society members. Termed "The Hump Day Blues," the experience is more of a "jam" or open mike session. Originally, The Blue Monday Band, led by Doc Hurley, started playing this ongoing event at The Cellar in Blacksburg. 
"The musicians, along with Jessica at Rising Silo, presented the idea of Wednesday Blues night as a trial and it was a hit. So much talent, and you never know on any given Wednesday who will be there," said Kelley. 
People like Jojo Stockton, Woogieman, Blues Company, and Billy Crawford, and others, take the stage, with each group performing one or a few songs. The instruments provide a rich, full sound and include saxophone, guitar, drums, and harmonica, drawing a continuous stream of dancers to the floor.  
Brickhouse Pizza in Radford will soon be showcasing a night with blues band Delta Dirt Daubers on April 15, 6- 9 p.m. The New River Blues Society is encouraging community and organization members to come out and enjoy the entertainment with the hopes that more events like this one can be offered. 
On May 19, at the Pulaski Theater, an out-of-state band will be appearing that will include the talents of a world-class harmonica player, Kurt Crandall, teaming up with The Stella Vees Band. Kelley says their organization was fortunate to catch the group on their way through the area after they will play a festival in Tennessee. 
"Rachel and Pulaski Theater…well they've all been wonderful to work with," Vernon said, "and they have a great sound system; really nice theater."
Just announced in The New River Blues Society's newsletter this week is another big entertainment night on July 22, also at the Pulaski Theater. Big Al and the Heavy Weights, a group out of Louisiana, is band that Blues enthusiasts will not want to miss.
Currently, Vernon Kelley reports The New River Blues Society has a list of 320 members. 
"Not only are there young people in their 20's and 30's coming out, but they are also playing music. To us, it is great that so many people are not just listening but participating in the blues." 
Additional information about venues or membership can be found at https://www.newriverbluessociety.com/, or the organization's Facebook page at https://www.facebook.com/nrvBluesSociety.