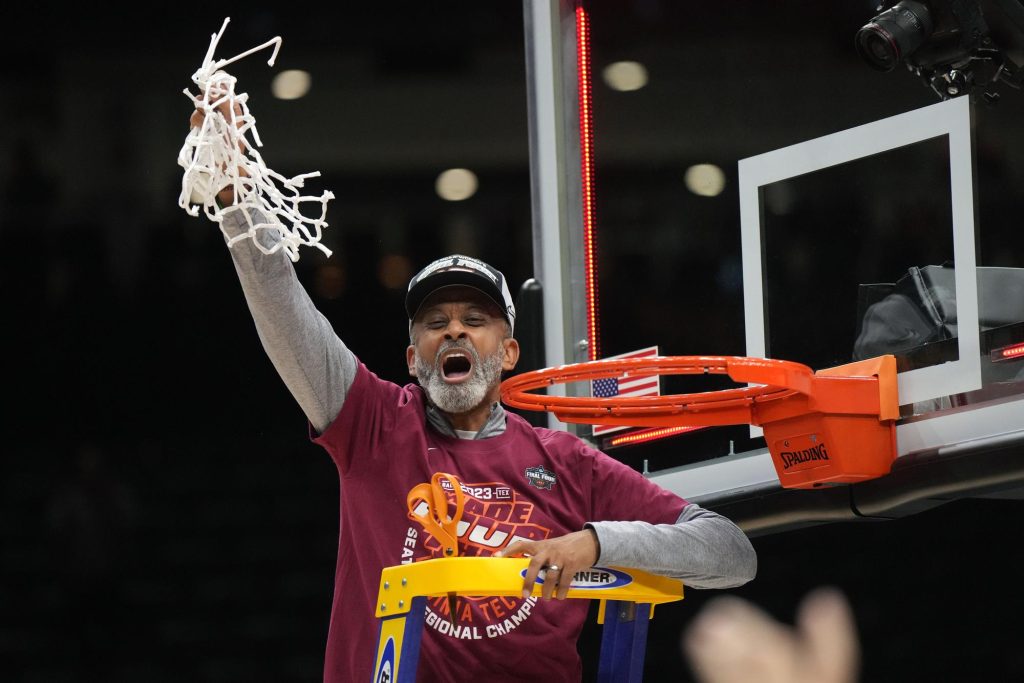 Who is this guy named Kenny leading Hokies to promised land?
Kenny Brooks was named the seventh head women's basketball coach in Virginia Tech women's basketball history on March 28, 2016 and concluded his sixth season at the helm of the Hokies' program in 2022.
Since Brooks' arrival in Blacksburg, the Hokies have enjoyed six consecutive winning seasons, and made consecutive appearances in the NCAA Tournament. Tech has posted numerous records when it comes to ACC win totals, ranked wins and athletes earning postseason accolades.
For the first time in program history, a Hokie, Elizabeth Kitley earned a place on an AP All-American Team in 2022. She also became the school's first ACC Player of the Year and Kay Yow Scholar Athlete of the Year and for the second straight season was a Lisa Leslie Award finalist.
Brooks recruited and developed guard Aisha Sheppard, who graduated in 2022 as the program's all-time leader in points with 1,883 and the ACC's leader in career 3-point field goals with 402. She earned three All-ACC awards and earn honorable mention AP All-America accolades in 2021. She owns the top three single season totals in 3-point shooting in program history and played in the most games and most minutes of any Hokie.
In 2022, the Hokies set a program record with 13 ACC victories and five ranked wins. The squad advanced to the ACC Tournament Semifinals for the first time ever.
Brooks won his 450th career game with a 65-54 win at No. 16 Duke earning a sweep of the Blue Devils for the first time in program history.
Tech's 2020-21 season was a special one in several regards, with the Hokies winning their First Round NCAA Tournament game against Marquette, the team securing the program's first win over an AP top four team, a program record six-game winning streak in ACC play, and for the first time, two student-athletes were honored as First Team All-ACC performers. Brooks was awarded VaSID Coach of the Year honors in 2021. He won his 100th game as a Hokie at the 2021 ACC Tournament with a 72-64 victory over Miami. 
The 2019-20 Hokies accomplished numerous milestones that included the program's first ever ACC Freshman of the Year, ACC Sixth Player of the Year and five players named ACC All-Academic. On the court, Tech won a record 11 ACC games, won four ACC contests in a row for the first time, had a three-game road winning streak for the first time, and went 13-2 defending their home floor at Cassell Coliseum. Along the way, Tech collected the program's first win at Notre Dame and earned the highest ACC Tournament seed after finishing tied for fourth. 
To begin his tenure, Brooks and the Hokies reeled off 15 straight wins to open the 2016-17 season, Tech's strongest start to a season in 18 years. Behind that strong start, Tech climbed to as high as No. 15 in the AP Poll.
Brooks has ushered in a new era of up-tempo basketball at Virginia Tech, as his Hokies have reset the team scoring record in each of his first two seasons as well as reset the mark for most 3-pointers made each season.
During his time in Blacksburg, Brooks has recruited and developed All-ACC performer Taylor Emery, who set the single season scoring record in 2017-18 at 667 points. She also scored the most field goals in a single campaign with 236. Emery became the first Hokie to ever earn first team All-ACC honors with her selection in 2019. She would go on to be undrafted but sign with the Minnesota Lynx of the WNBA.
Brooks' tenure has also seen numerous players score their 1,000th career point, including forward Regan Magarity who became the program's all-time leading rebounder during the WNIT run in 2018. Magarity set the ACC record with 1,299 career rebounds. She was a third round WNBA Draft pick in 2019, going to the Connecticut Sun with pick number 33.  
In 2019, Brooks won his 400th career game, an 85-63 rout of Wake Forest in Greensboro, North Carolina at the ACC tournament.  
With the Hokies, Brooks has coached nine student-athletes who earned All-Conference honors, including ACC Freshman of the Year Elizabeth Kitley (2020) and numerous players have received All-ACC Academic accolades, including the entire starting five in 2020.  
In Blacksburg, Brooks is 5-0 in the annual ACC/Big Ten Challenge with victories over Nebraska, Illinois, Rutgers, Purdue and Wisconsin in consecutive seasons. In those games, the Hokies have won by an average margin of 19 points.
Brooks joined the Hokies after an impressive 14-season stint as head coach at James Madison University where he compiled a record of 337-122 (.756), making him the winningest coach in that school's history. Brooks guided the Dukes to 11 consecutive postseason appearances, including six NCAA bids and five trips to the WNIT.
Over an 11-year stretch (2005-2016), Brooks' squads never won fewer than 24 games, averaging 26.3 wins per year. The Dukes won three consecutive CAA championships (2014-2016) under Brooks' tutelage and captured a total of five conference titles over a seven season span.
During those final three seasons in Harrisonburg, Brooks and the Dukes compiled an impressive 60-3 record in conference play.
He was named CAA Coach of the Year for a fourth time in 2015-16, while his student-athletes also garnered CAA Player and Rookie of the Year honors.
Brooks registered winning campaigns in 13 of his 14 seasons in Harrisonburg, ascending to No. 23 in the AP Poll and No. 21 in the USA Today Coaches Poll in 2014-15 as his squad tied a school record with 29 victories. In 2013-14, he led the Dukes to their first NCAA Tournament victory since 1991 when his 11th-seeded Dukes knocked off sixth-seeded Gonzaga 72-63 in the first round. In 2007, the Dukes earned an at-large bid to the NCAA Tournament, marking only the second time a CAA team had received an at-large berth.
Under Brooks, JMU tallied six CAA Players of the Year, three Rookies of the Year and two Defensive Players of the Year. The Dukes also recorded 31 All-CAA selections, 11 Defensive team and nine All-Rookie team selections during his tenure.
The Waynesboro, Virginia, native has coached five WNBA Draft picks; first-rounder Tamera Young, as well as Lauren Okafor and Jazmon Gwathmey, in addition to several other players who have signed professional contracts. Regan Magarity and Aisha Sheppard have been selected in the Draft as well.
A 1992 graduate of James Madison, Brooks played for three seasons under legendary coach Lefty Driesell and made two NIT appearances while earning a degree in business management. He began his coaching career as a part-time assistant for the 1993-94 JMU men's squad that won the CAA Tournament and advanced to the NCAA Tournament.
After four seasons as an assistant for the men's program at VMI (1994-98), he moved back to his alma mater as a men's assistant from 1998-2002. He was named interim women's head coach on Dec. 6, 2002 before taking over those duties on a full-time basis on March 21, 2003.
Virginia Tech Athletics