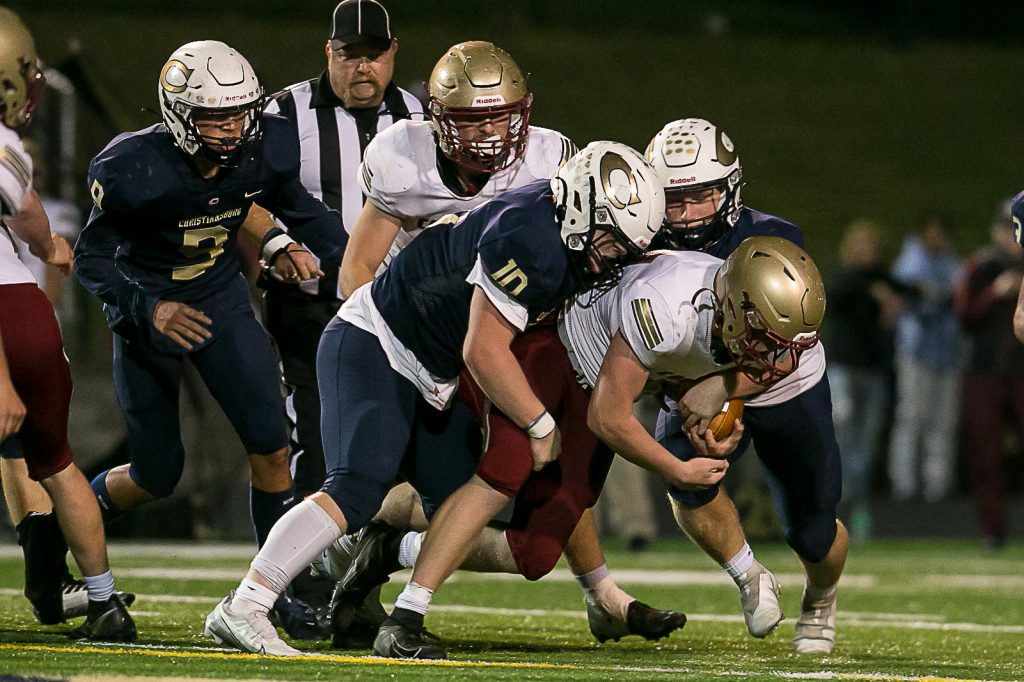 By Marty Gordon
Christiansburg High School was one game away from a state Class 3 title chance this past season, and one of the reasons was the play of linebacker Curtis Altizer. 
Earlier this week, he announced his intentions to continue his career at Bluefield University. 
Altizer tallied 128 tackles with 86 solos and two interceptions. For his effort, he has been named the 2022 all-county, all-city defensive player of the year. Additionally, he totaled 623 yards from his running back position and even played quarterback for five snaps this season. He scored four touchdowns on offense. 
But it's on defense where he excelled, a position he expects to play at Bluefield. He felt at home when he visited the school's campus.
"I really connected with the defensive coach, and it's close for my family to attend my games," he said.
Bluefield University is a private university in Bluefield, Va. It offers 22 majors and is accredited by the Southern Association of Colleges and Schools. The 82-acre campus is about 150 feet from the state line between Virginia and West Virginia and has a current enrollment of 982 students.
The school had been known as Bluefield College until 2021 when it was accredited officially as a university.
The Bluefield athletic teams are called the Rams. The university is a member of the National Association of Intercollegiate Athletics (NAIA), primarily competing in the Appalachian Athletic Conference (AAC) for most of their sports since the 2014–15 academic year (which they were a member on a previous stint from 2001–02 to 2011–12); while its football team competes in the Mid-South Conference (MSC) since the 2014 fall season. This past season, the Rams finished 8-3 on the gridiron.
At Bluefield, Altizer will join former Christiansburg running back Stephen Myrthil and hopes to major in physical therapy.