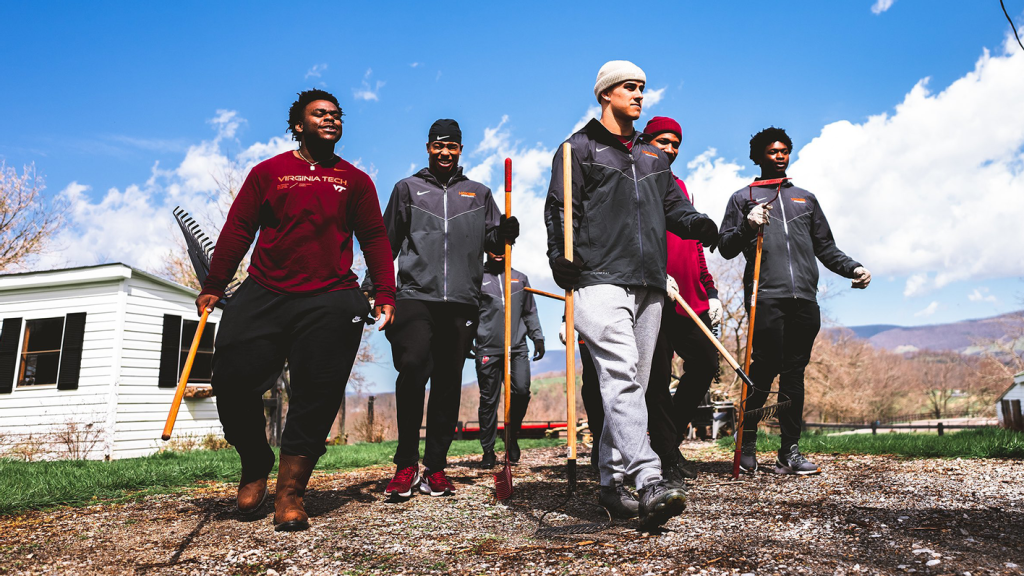 The day started in the team meeting room, as Virginia Tech football head coach Brent Pry spoke to the team about the importance of giving back and putting others before themselves.
He was regarding Virginia Tech's The Big Event, a student-run service that encompasses Virginia Tech students, faculty and staff coming together to complete nearly 1,200 community service projects within the New River Valley.
Following his talk to the team, both players and staff then went to the Drillfield on campus, where Pry spoke to the whole group, as well as others came on stage and did some programming. Then the groups got their tools and headed to their respective sites.
The football team split up into position groups and went to 10 areas for a few hours, focusing on mulching, raking, planting and the like.
"It was great having the opportunity to go out and connect with and serve the community," linebacker Matt Johnson said. "Much of Southwest Virginia is so supportive of our football program, so it was a blessing to reciprocate that love back to them."
"The Big Event is just an awesome opportunity," Pry said. "It's an awesome display of what this university is about – putting others first and giving back to this community. It's a way for us to say thank you for the way this community supports Virginia Tech, and it's also a way to give back. So, I couldn't be prouder of our student body."
Next up for the Hokies is their ninth practice of spring ball, which will take place on Tuesday.
Virginia Tech Athletics