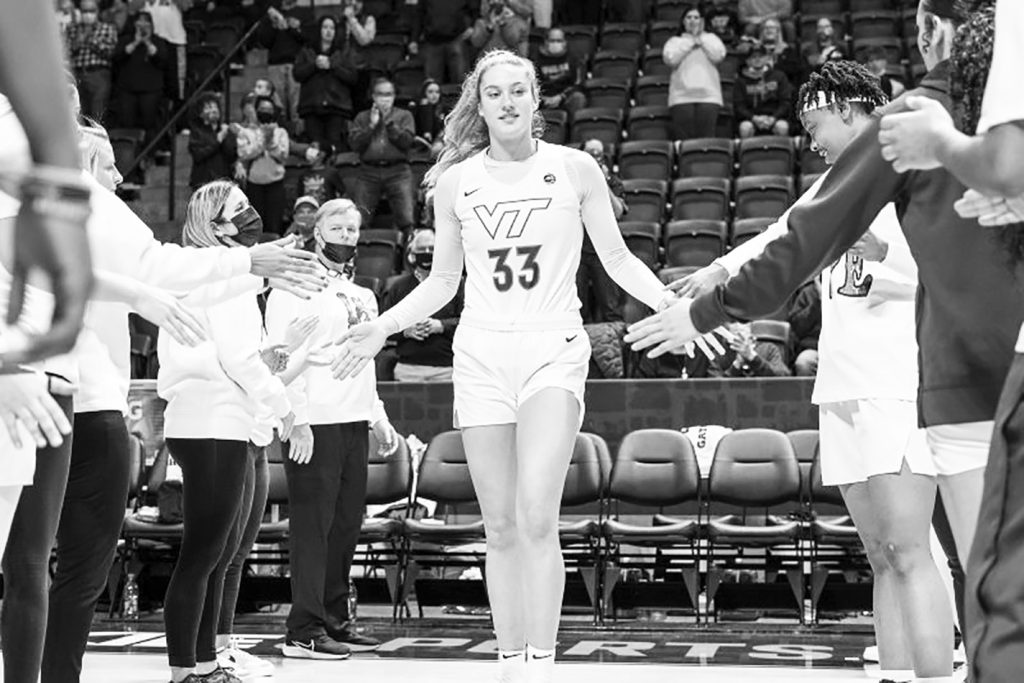 By Marty Gordon
Virginia Tech women's basketball standout Liz Kitley is returning for another year. 
She made the announcement Sunday afternoon in a Twitter post and 24 hours after the Lady Hokies lost to LSU in the national final Four.
Kitley has been named as a finalist for the Naismith Women's College Player of the Year Award.
The Summerfield, North Carolina native has averaged 18.6 points, 10.5 rebounds and 2.3 blocks per game this season while shooting 56% from the floor. She owns 17 games of 20+ points and has recorded 21 double-doubles in 2022-23. She was named ACC Player of the Week four times on her way to collecting Player of the Year honors again. She also repeated as the Kay Yow Scholar Athlete of the Year winner.
Kitley owns the program record for points scored, field goals, blocks and double-doubles. She is the only player in program history to earn AP All-America honors twice.
Kitley, the two-time ACC Player of the Year helped the Hokies to their best regular season in ACC history winning 14 games and she and her teammates lifted the trophy as 2023 ACC Tournament Champions.
In the LSU contest, he had 18 points and 12 rebounds for Virginia Tech (31-5), the ACC champion that was in the Final Four for the first time.
Kitley received the extra year of eligibility because of the COVID-NCAA ruling, which gave anyone that played a partial season during the national shutdown an extra year to play.