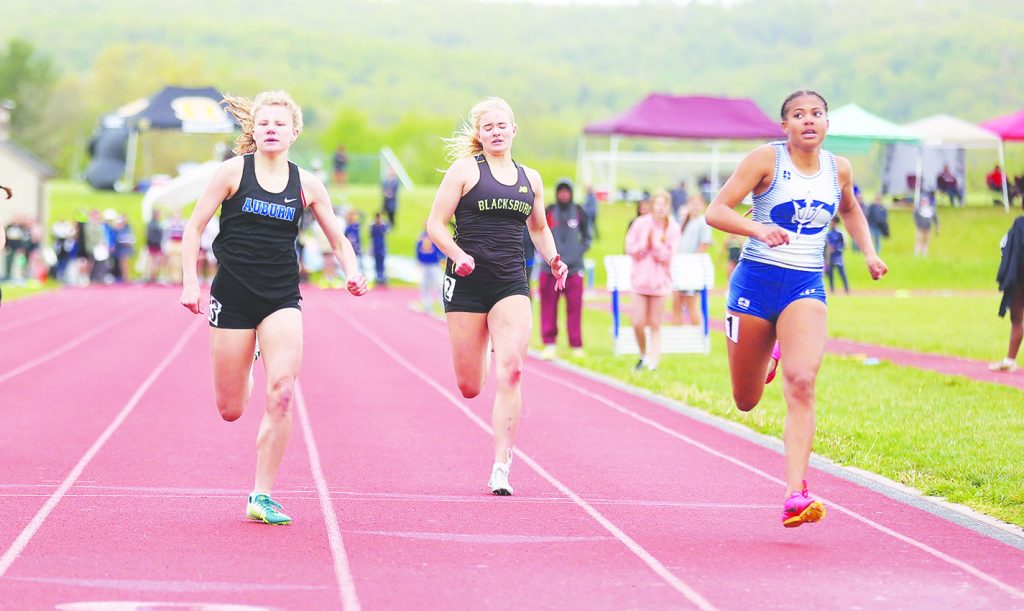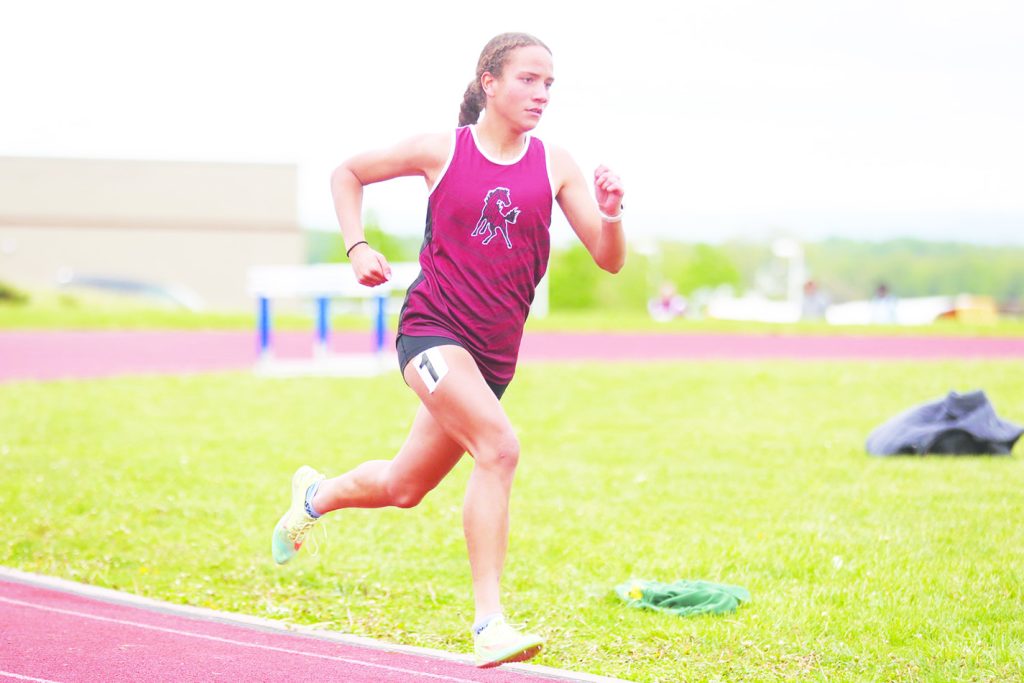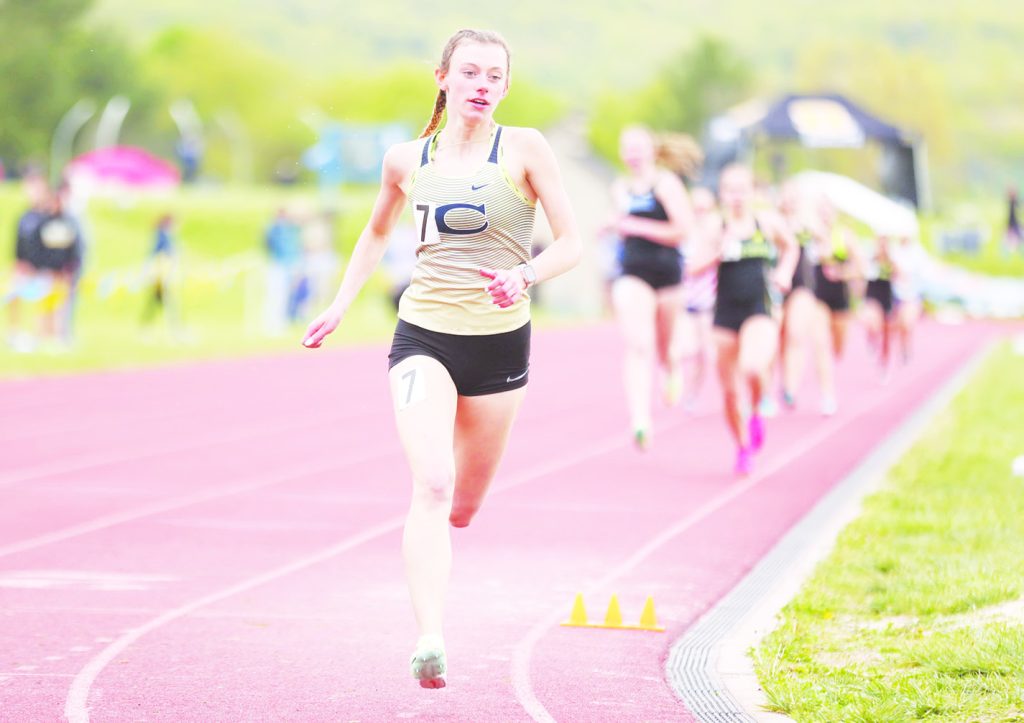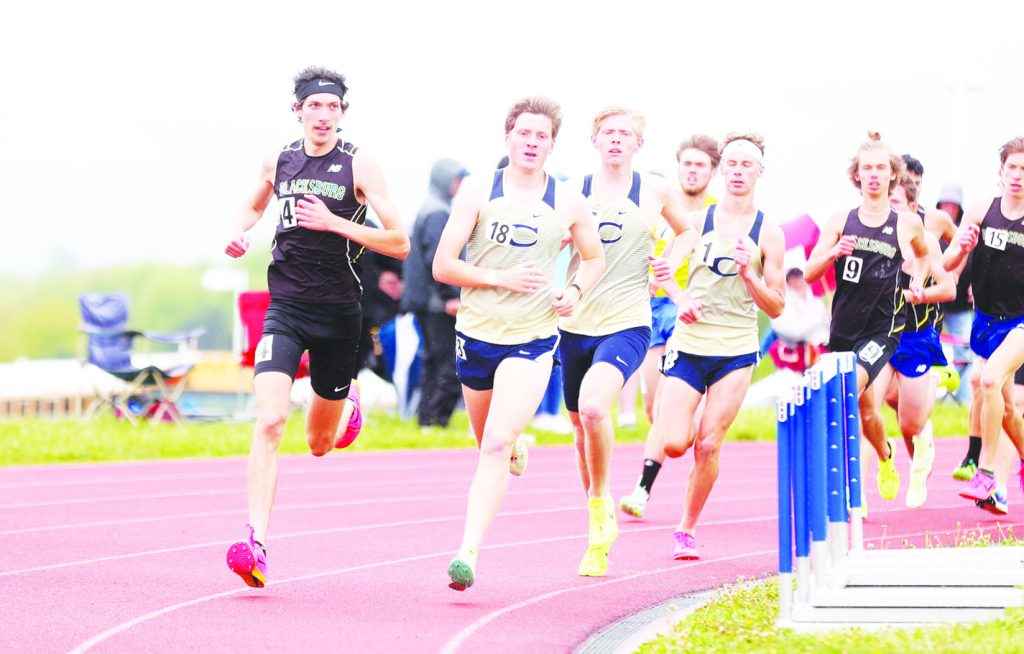 Photos by Jon Fleming
By Marty Gordon
Blacksburg High School continued its dominance in the Blacksburg Invitational with wins in both the boys' and girls' track and field competition on Saturday. 
This is the sixth straight year the host team claimed the championship. 
The boys' squad outdistanced Christiansburg 232 to 103 with Pulaski in third and Radford fourth. On the girls' side of the track, Blacksburg scored 222 points to second place Christiansburg who also tallied 103 points. Pulaski was third and Auburn fourth.
Christiansburg's Ayden Conley heaved the discus 154-9 feet to win the boys' event with Lance Duncan of Radford third. 
Ben Hager of Blacksburg started his successful run in the Invitational held at Blacksburg High School. Hager won the long jump with a 19-5 mark. He also won the 100 and 400 meter events. 
Larry Hill of Radford leapt to the win in the high jump at 5-10 with Christiansburg's Jayson Blevins second. 
Donavan Richardson kept Christiansburg close with a win in the triple jump at 40-11 with Radford's Daniel Dehart-Lewis second. Blacksburg teammates Evan Foley and Lane Daily took fourth and fifth. 
Conley was second in the shot with Blacksburg's Jake Mele third.
Radford's Cryus Hartig and Kyle Martin sandwiched Blacksburg's Asher Roach and Ben Bailey in 1-4. Will Harrison gave Blacksburg a big win in the 110-hurdles. 
Parker Prioleau of Radford would finish second to Hager in the 100 meters. 
As typical, Blacksburg extended its lead with Jonas Reach taking first in the 1,600 with a time of 4:26.61. Christiansburg's Max Craig finished second with Harrison Whitfield of Blacksburg third. Christiansburg's Lawson Mecom and Noah Jones were 4-5.
The 4X100 relay team finished with Christiansburg and Blacksburg in 1-2.
Blacksburg's Hager took the 400 meters with teammates Evan Foley and Will Shi in toll. 
Will Harrison led a Blacksburg trio in the 300 hurdles with William Jenkins and Daniel Shelton. 
Auburn's Bryce DeHart would win the 200 meters. 
Katja Kehlenbeck of Blacksburg tried to run away with points for the home team as she finished with two firsts and one second.  Kehlenbeck started with a 17-6.75 leap in the long jump and added a first in the high jump and second in the triple.
Leila Haley did try to make it a two-girl event as the Christiansburg youngster managed a first in the 400 meters, second in the 110 hurdles and 100 meters. and third in the triple jump. 
Blacksburg's Ruby Griggs won the girls' 3,200 with a 11:37.17 mark. Auburn's Kasey Rosebaum was second. Blacksburg's Sophia Krouscas won the 100 meters. 
Rosebaum won the 1,600 at 5:41.91 and Christiansburg's Addison Mecom was third. 
Christiansburg's Madelyn Moles won the 300 hurdles with Blacksburg's Ziona Allen second. 
The 800-meters was won by Summer Hamlin of Christiansburg with Blacksburg's Cameron Lee in second.