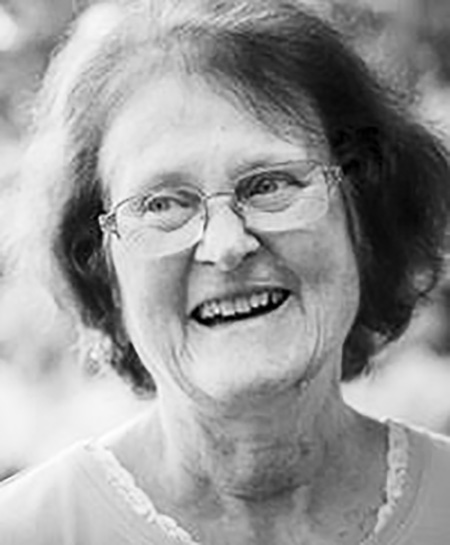 On Halloween in 1940, Novie Rachel Cox Myers was born as the first daughter of a Pentecostal Holiness preacher in a farmhouse in Indian Valley, Va. Then on a beautiful April morning, April 23, 2023, she left this world to join Sunday service in Heaven. 
She loved to relay stories of gathering water from the creek and of the large mound of dirt behind the house that was covered in arrowheads. She named all the chickens and ducks and could not eat any of them if that was on the menu. Her siblings are Lowell (Alta) of Lexington, N.C., David (Betty) of Seymour, Tenn., Carnella "Connie" Proco (Garland, deceased) of Hoschton, Ga., Nola Cox of Alton, Va., Carlos (Frances) of Blacksburg, and Linda Blackburn (Joey) of Galax, Va. 
At eight years old her mother taught her to sew, and at 18 years old she went to work at Christiansburg Garment Factory, became the head supervisor and was responsible for training many ladies to sew and to make sure they met production. Before her senior year of high school, the family moved to Blacksburg where she graduated from BHS in 1959. 
In 1958 she met a dashing young man, James Owen Crawford (deceased)) at a church revival service and together they had three children. Dennis (Donna) of Riner, Elaine (Dan Cook) Newport, Va., and Carissa (Lori Eichler) of Charlotte, N.C. In 1992 she married John H Myers (deceased) and became stepmom to Kala Drewry (Dan) of Vinton, Va., and Clark (Kat), of Waiteville, W.Va. 
She was born to be a caregiver – and throughout her life has claimed many that she met as her "other daughter or son." So naturally when her first grandchild was born, she retired at 47 years old to keep that little boy because she knew no one could care for him as well as she could. She started her own alteration business – Alter 4 You. The name was perfect because as she said she could either sew or pray for people and the name fit. Most often she did both. She was an amazing seamstress and was able to alter clothing so it looked tailor made for the wearer. She altered suits, beaded gowns, wedding gowns. She had a lot of return customers not only because of her good work but because she enjoyed sewing so much, she wouldn't charge very much. She agonized when she would lose customers when she decided to raise her rates from $1 to $2.50 per pants hem. 
Another joy of her life were nine grandchildren, and 10 great grandchildren that called her Nana, Kevin Cupp (Taylor) and son James, Hunter Crawford (Casie) and daughters Scarlett and Julie, Chloe Parmer (Cary) and daughters Evelyn, Amelia and Josephine, Daniel Cook, Alisa Myers and daughter Scarlett, Hope Myers, Justin Carr (deceased), Lesley Holloway (Randy) and daughters Aubree and Danni, and Ashley Carr (Erik) Kennedy. 
She loved watching sports, especially the Hokies football, basketball and baseball. She was proud to have so many family members that graduated from Virginia Tech. She cheered for the Dodgers during baseball season, Denny Hamlin in NASCAR and her idea of a perfect NFL game was to watch the Cowboys winning against the Redskins – and if it was snowing outside, we drank hot chocolate for good luck. 
Rachel was a strong, brave, spiritual woman. She loved her TriedStone Christian Fellowship church family. Since fall of 2021, her home has been at English Meadows Senior Living where she met her special friend, Tony Long. They looked after each other and we are grateful for his friendship. The family wants to thank the staff for their care and the community she experienced there. We also are very grateful to everyone at Good Samaritan Hospice for admitting her and helping us when no other company would. 
Services and visitation will be held at Tried Stone Christian Center, located at 2100 North Main St., Blacksburg on Wednesday, April 26, 2023 with family receiving friends beginning at noon. A celebration of life will begin at 2 p.m. and interment immediately following at Memorial Gardens on North Main. In lieu of flowers we request donations to Good Samaritan Hospice 1160 Moose Dr., Christiansburg, VA 24073 or Tried Stone Christian Center, 2100 North Main St., Blacksburg, VA 24060.