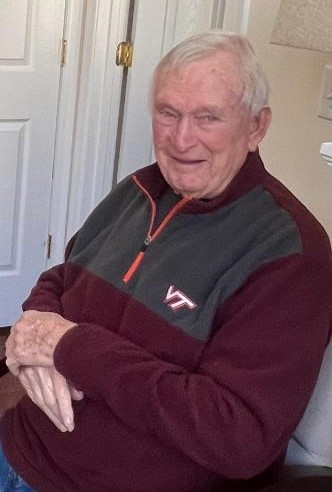 William ("Bill") Vest, of Dublin, passed away on Monday, June 12, 2023 at the Pulaski Health and Rehabilitation Center.
He was preceded in death by his parents, William M. Vest and Myrtle Bandy Vest; his first wife, Joyce Robertson Vest; his sister, Sarah Lou Vest Parsell; and brother, Tommy Vest.
Also, Bill was preceded in death by Jackson and Myrtle Morris Vest, who reared him after his parents died when he was a young boy.
Bill was a Vietnam Veteran, having served in the United States Air Force for five years in the early sixties. He then began a long career in construction. Bill retired from Branch and Associates where he worked as a construction superintendent on large building projects at Virginia Tech, Radford University, VMI, and many other college campuses. Bill loved bass fishing, gardening, and visiting with his family and friends.
Bill is survived by his wife, Debra K. Bond; his daughter and son-in-law, Casey and Tim Delph, Dublin; his step-daughters and husbands, Amy and Dustin Nester, Hillsville and Sharon and Richard McDougal, Pulaski; his granddaughters and husbands, Kelsey and Alan Lang and Samantha and Coy Smith, all of Dublin; his step-grandchildren , Anna Nester and Katherine Marshall and Jace and Ryleigh McDougal; and his great-grandchildren, Colton and Cora Smith.
Surviving siblings include Freda Wright, John Doug Vest, and Rachel and Jerry Davis, all of Dublin. Surviving sisters-in-law and brothers-in-law include Brenda Nester, Roanoke, Julian Bond, Christiansburg, Alan and Jennifer Gardner, Dugspur, Phyllis and Harold Kirk, Dublin, Bud and Jean Robertson, Pearisburg, Geraldine Croy, Christiansburg, Carol Speer and Sue and Doug Mullins, all of North Carolina.
Also surviving are many nieces and nephews, who dearly loved their "Uncle Bill."
Funeral services were held Wednesday, June 14, 2023 at the Pulaski Church of God with Pastor Donald Jones officiating.
Graveside services were held Thursday, June 15, 2023 at the Southwest Virginia Veteran's Cemetery, Dublin, with military honors provided by the Langley Air Force Honor Guard, the Dublin American Legion Post # 58 and the Pulaski VFW Post # 1184.
In lieu of flowers, the family suggests memorial donations be made in Bill's honor to the American Heart Association, www.heart.org/donate, 1715 Pratt Dr, Blacksburg, VA 24060. 
The Vest family is in the care of A. Vest & Sons Funeral Home, White Gate, avestandsons.com, (540) 921-2985.