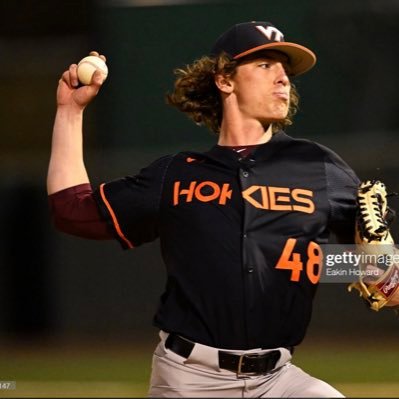 Marty Gordon
Former Christiansburg High School ace Brady Kirtner heard his name called late Tuesday in the Major League Baseball draft, when he got a call from the New York Mets.
Kirtner earned three varsity letters playing for coach Dale Nelson at Christiansburg. As a junior in 2019, posted an 8-1 record with a 1.56 ERA and 91 strikeouts in 58 innings and added a 1.08 WHIP and opponents batted just .152 against him. He attended the WWBA Perfect Game showcase in Jupiter, Florida in fall 2019.
Kirtner, who was a redshirt sophomore this past season at Tech, made 18 relief appearances … Recorded a 7.31 ERA across 16 innings. He earned his first Virginia Tech win against Marshall (April 5) after striking out one batter and not allowing any hits and only allowed two hits across 2.2 innings and struck out a career-high four batters against James Madison (April 27).
Leading the Virginia Tech baseball team's 2023 MLB Draft class at Lumen Field in Seattle on Sunday night, sophomore right-hand pitcher Drue Hackenberg was proudly taken during the second round at No. 59 overall by the Atlanta Braves, becoming the program's ninth highest all-time draft pick (eighth highest by name). 
Entering as the No. 200 prospect (according to mlb.com), Hackenberg witnessed the second largest improvement in draft position among the opening 70 selections, bettering his forecast by approximately five rounds.
At No. 59 overall, Hackenberg's selection was paired with a pick value of approximately $1.37 million, to which Atlanta has the ninth lowest bonus pool ($8.34 million) among the league's 30 clubs in this year's draft. The Braves scooped up the 2022 All-American hurler with their second of three picks (all pitchers) during the first and second rounds, sandwiching him between Florida's Hurston Waldrep (No. 24 overall) and Campbell's Cade Kuehler (No. 70). 
Considering head coach John Szefc's six seasons at Virginia Tech, Hackenberg became the Hokies' fourth player since 2020 to earn selection inside the top 75 picks of the draft, joining outfielder Gavin Cross (No. 9 overall, 2022), pitcher Ian Seymour (No. 57 overall, 2020) and shortstop Tanner Schobel (No. 68 overall, 2022). He is also the fifth player from Tech's 2022 NCAA Blacksburg Super Regional team to be chosen during the draft's opening five rounds. 
Hackenberg took the ACC by storm during the 2022 season, toeing a 10-2 record and a 3.30 ERA while making 17 appearances (16 starts). Behind his All-American honors, he was a consensus Freshman All-American, placed onto the All-ACC First Team and received ABCA/Rawlings NCAA Division I Atlantic All-Region Team praise. 
Despite pitching to more contact as a sophomore, Hackenberg managed to post the highest single-season strikeout count (99) by a Virginia Tech pitcher since 2010 (Justin Wright). Spanning his two seasons in Blacksburg, the right-hander recorded 186 career strikeouts across 178 innings pitched, laying claim to 15 victories, 14 quality starts and one complete game win. 
Like each of his three older brothers, Hackenberg is the fourth son to parents Erick and Nicole who has been drafted professionally in his respective sport. His oldest brother, Christian, was selected during the second round of the 2016 NFL Draft by the New York Jets (No. 51 overall), Brandon was selected during the first round of the 2021 MLS Draft by Orlando City SC (No. 22 overall) and Adam was selected during the 18th round of the 2021 MLB Draft by the Chicago White Sox.
Several other Hokies are also headed to the next level.
Observing their names come off the board during Monday's second day of the 2023 MLB Draft, Virginia Tech junior outfielder Jack Hurley and junior pitcher Christian Worley earned selection during the third and ninth rounds, respectively, affirming another robust draft class by the baseball program.
Considered one of the draft's best steals, Hurley – the No. 36 prospect according to mlb.com – was chosen at No. 80 overall by the Arizona Diamondbacks, who selected a player from the Hokies for the first time during their franchise history. The 2022 All-American ranks as the third highest outfielder to have been drafted from Virginia Tech all-time, trailing his former teammate, Gavin Cross (No. 9 overall, 2022), as well as Milwaukee call-up Kevin Barker (No. 73 overall, 1996).Worley was selected at No. 275 overall by the St. Louis Cardinals, who during recent years have gone to the Blacksburg well to draft Tech pitchers in 2018 (Connor Coward) and 2021 (Chris Gerard). The Hokies' right-hand reliever was the fifth pitcher to have been taken this year by St. Louis and the fourth in a row between the sixth and ninth rounds.
Together with right-hand pitcher Drue Hackenberg – who was chosen at No. 59 overall during Sunday's second round – Virginia Tech has now produced three or more draft picks annually since 2019 with the exception of the shortened 2020 MLB Draft. The Hokies' streak of generating multiple draft picks has also been extended to 17 consecutive seasons dating back to 2008.
Under the leadership of head coach John Szefc, Tech has observed 11 of its 19 prospects earn selection within the draft's opening 10 rounds, including eight picks who have placed inside the top five rounds. Considering Hackenberg and Hurley, the Hokies have now celebrated five top-100 selections under Szefc, accounting for more than a third of the program's all-time honor roll (by name).
A two-time All-ACC First Team and two-time ABCA/Rawlings Atlantic All-Region outfielder, Hurley batted .321, slugged .603 and recorded a 1.014 OPS during his 154 career collegiate appearances while mashing 48 doubles, three triples and 37 home runs. As a sophomore in 2022, he ranked fifth among ACC hitters in batting average (.375), having opened the season with a 26-game hitting streak – the longest by a Tech player during the program's ACC era.
Coming off a tour with the 2022 USA Baseball Collegiate National Team, Hurley returned to the Hokies in 2023 to swing 17 home runs and lead the ACC in conference-only slugging percentage (.743). Through his three seasons in Blacksburg, he scored 145 runs and totaled 129 RBIs, sporting a .411 career on-base percentage.
Worley showed rising potential during his Virginia Tech career, despite being limited by opportunity and injury to 36 and two-thirds career innings across three seasons. During the 2022 campaign, he made eight of his 14 appearances after April 27, beginning the aforementioned stretch with 14 and one-third consecutive scoreless innings.
This spring, Worley had been 2-0 with a 2.70 ERA and 15 strikeouts (two walks) during his first five appearances that spanned 10 innings of relief. However, he missed the remainder of the 2023 season due to injury following his March 17 outing at Miami.