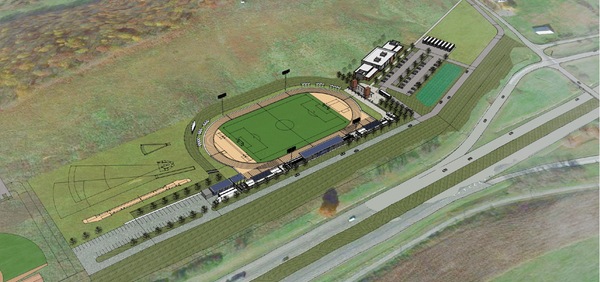 Hundreds of Emory & Henry College students and thousands of middle and high school students will soon be playing sports including lacrosse, track and field and soccer at the new MultiSport Complex at exit 26 just off the I-81 Emory & Henry Education Corridor. 
Emory & Henry spans facilities from Marion to Bristol in Virginia serving more than 1,400 students. It is estimated that the new complex will be ready for use by fall 2024.
The $15 million facility will feature year-round game action, adding a boon to economic development in the region including Abingdon lodging and restaurants specifically.
"This is a collaborative vision to build a high-caliber sports facility at Emory & Henry College. The MultiSport Complex is not only for our DII student-athletes but to support the youth in Southwest Virginia and those coming into Abingdon at the Meadows Sports Complex," said John W. Wells, president of Emory & Henry. "We envision opportunities to support one another and to host large tournaments and events throughout the seasons. This will also be an engine for economic impact and growth by increasing the number of visitors to our region who will enjoy lodging, dining, transportation, and recreation in Washington County."
Leading off the project with a lead gift of $4 million is locally-owned Food City. Food City continues to support initiatives that help market and grow the region with an eye on family engagement and healthy lifestyles. The gift is part of the Collective Connections Campaign underway at the College to support student success and experiences.
"Food City is proud to partner with our friends at Emory & Henry to help make this project possible," said Steven C. Smith, Food City president and chief executive officer. "We've been very fortunate to hire a number of Emory & Henry graduates and former athletes, many of whom worked or interned at our Corporate Support Center, Distribution Center and stores while attending college. We're honored to work with Dr. Wells and see his outstanding stewardship of the University, as well as the many other great individuals at Emory & Henry. We're excited to welcome families from all over the globe to Emory & Henry's campus to compete at this state-of-the-art multi-sports complex. Not only will this project benefit the students of Emory & Henry and the surrounding areas, but it will also be a huge economic engine for Washington County."
K-VA-T Food Stores (Food City's parent company), headquartered in Abingdon, Virginia, operates 150 retail outlets throughout southeast Kentucky, southwest Virginia, east Tennessee, north Georgia, and Alabama.
The new complex, to be named the Food City Sports Complex at Emory & Henry, will be managed by Synergy Sports Global. According to Jason Boudrie, founder and CEO with Synergy, working with Emory & Henry College to develop a sports complex is an exciting opportunity for several reasons.
"Developing a sports complex in alignment with the move to NCAA Division II demonstrates the college's commitment to providing their student-athletes with top-notch facilities and resources. Being part of this growth and expansion journey is exhilarating, as it allows us to contribute to the development of a high-caliber athletic program," said Boudrie. "The opportunity to play a role in shaping the spaces where athletes will compete, train, and excel is truly exciting and rewarding. A well-designed sports complex can give them a competitive edge by providing a facility that aligns with the standards and expectations of their new division."
"This is an amazing opportunity for our athletics department, student-athletes and Emory & Henry College," said Anne Crutchfield, Vice President for Athletics. "The complex will attract future students and youth teams to our campus and the region. We hope their families explore the area to take advantage of the recreational amenities we offer in Southwest Virginia and enjoy coming out to support E&H events and other events on our campus."
Leah Prater, E&H