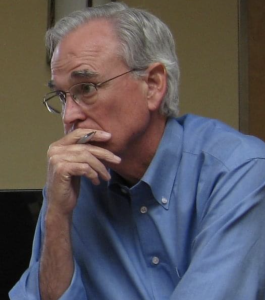 Charles L. (Chuck) Hayes, beloved husband, father, teacher, and friend, passed away peacefully on July 6, 2023, at his home in Radford. 
The only child of Otis L. Hayes and Dorothy W. Hayes, he was born on June 10, 1940, in Lake Worth, Fla. and grew up in Belle Glade, Fla., until enrolling in Castle Heights boarding school. He graduated from Castle Heights and earned his undergraduate degree from Troy State College and his master's degree from Indiana University. Chuck met Betsy L. Robinson while doing summer theatre in her hometown of Danville, Ky. They married in 1962 and have three grown children and three grown grandchildren.
Professor Emeritus Charles L. Hayes taught at Radford University for 40 years. He primarily taught acting, directing, theatre history and literature and cinema. He directed theatre, opera, film, radio, and television. At RU, Chuck directed over 40 productions and created over 25 roles as an actor. Just prior to his retirement, he gave a particularly stirring portrayal of Big Daddy in Tennessee Williams' Cat on a Hot Tin Roof. Throughout his time at RU, Chuck's teaching career was marked by his devotion to his students and this devotion nurtured the formation of friendships that remained strong for the rest of his life. 
While at Radford University, he worked with the Virginia Governor's School for the Arts for four years and served as its director in 1987 and 1988. As coordinator of the university's exchange program with Middlesex University in London, he frequently traveled between the two schools. Over the years, he adjudicated for the American College Theatre Festival, judged innumerable play festivals, consulted on theatre projects throughout the Commonwealth and conducted a wide range of workshops for a variety of theatre conferences and professional organizations. 
In addition to his teaching and administrative duties, Chuck served as Radford University's Faculty Athletics Representative to the NCAA for 13 years. He chaired the university's committee on athletics, the Hall of Fame Selection Committee, and various committees for the Big South Conference.
He is the published author of plays, poems, and short fiction. His plays have been performed in Florida and Virginia. He served as the editor of Virginia Film Notes. Chuck published in and was editor for The New River Review and served as consulting editor to The Film Journal.
A devoted and faithful Catholic, Chuck was a joyful and engaged member of St. Jude Catholic Church in Radford. He was an active member of the Knights of Columbus and deeply involved in the Catholic community of the New River Valley. 
Chuck is survived by his beloved wife, Betsy and their three grown children and three grown grandchildren: their oldest child, Dr. Paige Horst, resides in Newport, Va. and is married to Randall Horst. Chuck and Betsy's son Hunt Hayes lives in Chapel Hill, N.C. Anthony Hayes, their youngest, is married to Korena Hayes and they reside in Christiansburg. Their oldest grandchild, Tallis Horst lives in Blacksburg with his wife Kimberly and their four children. Carlie-Rose Zepp lives in Richmond, Va. with her husband Ben. Their youngest grandchild Jed Horst resides in Newport, Va. 
Friends were invited to visit the family on Friday, July 14, at Mullins Funeral Home, 120 W. Main St., Radford. The funeral service will be held at St. Jude Catholic Church, 1740 Tyler Rd., Christiansburg today, Saturday, July 15, 2023, at 11 a.m.
The Hayes family is in the care of Mullins Funeral Home & Crematory in Radford.
Free Papers- Full with picture
Website – Full with picture