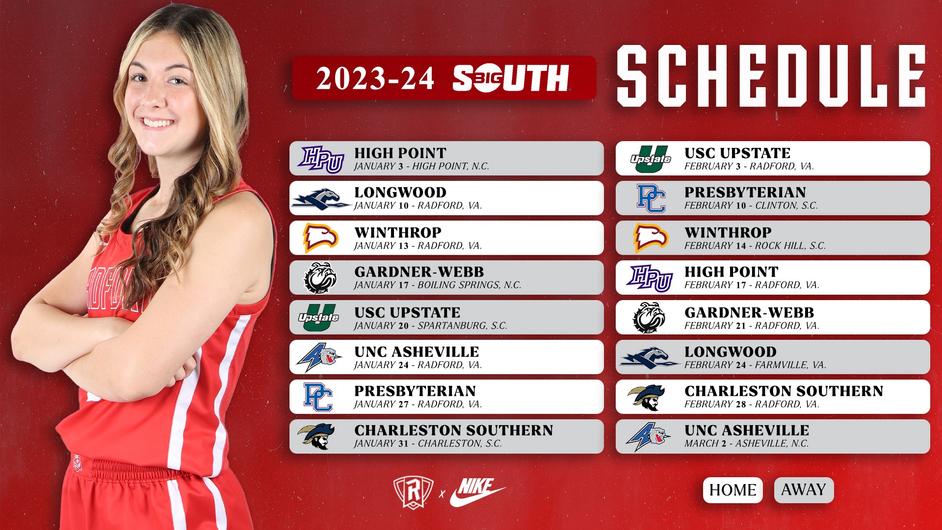 The Big South Conference announced Wednesday afternoon the 16-game conference schedule to complete the women's basketball program's 2023-24 schedule. 
With nine total teams in the conference, Radford will host eight games with an equal eight road games facing every team twice.
"I'm really looking forward to the conference race this season," said head coach Mike McGuire. "There are a lot of opportunities and unknowns within the conference heading into this season. This year's race seems more wide open than previous seasons. I fully expect our program to be prepared for Big South play after a challenging non-conference slate. I am also really excited about watching our team grow and find its best by the end of the season. We have a hard-working group and I know they are determined to prepare well for one another."
The Highlanders get conference play started on Jan. 3 as the team travels to face High Point in an exciting debut of Big South action for the 2024 calendar year. Radford will eventually make the return trip to High Point at the exact opposite end of the schedule as High Point will host the 2024 Big South Tournament in March.
Returning home, Radford will get two straight home contests to open up conference play in the Dedmon Center. Radford will play host to Longwood on Jan. 10 and will host Winthrop to close out the week on Jan. 13.
Two straight road games await the Highlanders after the early-January home stretch as Radford travels to Gardner-Webb on Jan.  17 and USC Upstate on Jan. 20. It's another back-to-back home games for Radford after that as the team hosts UNC Asheville on January 24th and Presbyterian on Jan.  27.
Closing out the first half of the conference schedule will be Radford and Charleston Southern at Charleston, S.C. on Jan.  31. Moving into February, the schedule heats up with a pivotal home meeting with USC Upstate on February 3rd and two big road games at Presbyterian (Feb. 10) and Winthrop (Feb. 14).
From there, three of Radford's final five games will come within the Dedmon Center. After a home contest with High Point on Feb. 17, Radford and Gardner-Webb will meet again after two thrilling finishes last season in the regular season and Big South Semifinals.
Radford visits in-state rival Longwood and their new arena on Feb. 24 before closing out the home portion of their schedule on Feb. 28 against Charleston Southern. The regular season concludes on the road for Radford on March 2 as two historic Big South teams clash at UNC Asheville.
The 2024 Big South Tournament has a new host this season as High Point will host all nine Big South institutions to determine who earns the automatic bid to the NCAA Tournament. Action begins on March 6 with the championship meeting currently scheduled for March 10.
Radford University Athletics