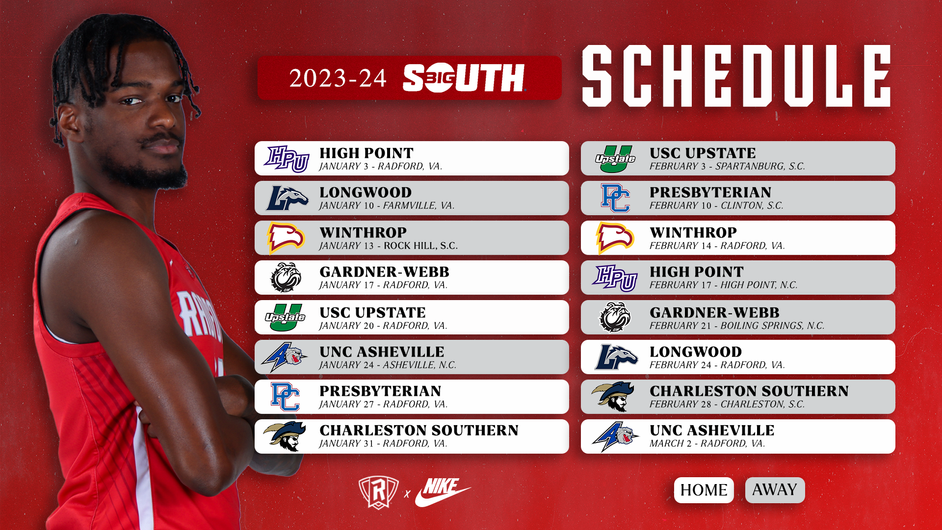 Opening against High Point on Jan. 3 and ending with a showdown against UNC Asheville on March 2, the highly anticipated 2023-24 Big South Conference schedule for the Radford men's basketball program has finally been announced. 
The Highlanders will journey through a 16-game schedule in the new year, playing each of their conference foes twice. With the 2023-24 slate now complete, fans can look forward to 32 total games during the regular season, including 14 contests inside the Dedmon Center. 
High Point makes a visit to the New River Valley to kick off Big South play, followed by road trips to Longwood (Jan. 10) and Winthrop (Jan. 13). 
Radford then returns home to face off against Gardner-Webb (Jan. 17) and USC Upstate (Jan. 20). The first matchup with heavyweight UNC Asheville comes on Jan. 24 and then the Highlanders close out the month of January with home matchups against Presbyterian (Jan. 27) and Charleston Southern (Jan. 31). 
The month of February ushers in a pair of away games at USC Upstate (Feb. 3) and Presbyterian (Feb. 10), followed by a Valentine's Day edition game against Winthrop (Feb. 14) back in the Dedmon Center. 
Returns trips to High Point (Feb. 17) and Gardner-Webb (Feb. 21) are up next on the docket, and then the Highlanders welcome Longwood (Feb. 24) back home. 
One more game at Charleston Southern (Feb. 28) finishes up the road slate and then a huge home game against UNC Asheville (March 2) closes out the regular season. 
The Big South Tournament, hosted by High Point at the Qubein Center, is set for March 6-10. 
Radford University Athletics