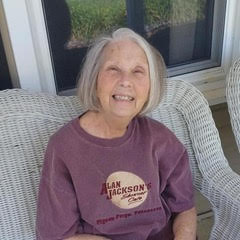 Donna Merrix Scott, 72, of McCoy, died Thursday, Sept. 21, 2023, at Heritage Hall. She was born in Giles County, Va. on July 12, 1951, to the late Doyle Lee and Mamie Collins Merrix. 
She is survived by her husband, Alex Scott, son, David Scott (Dawn Brown), sister and brother-in-law, Linda and Leroy Smith; brother, David Merrix; grandchild, Morgan Scott; mother-in-law, Faye Scott; numerous nieces and nephews; special friends, Dreama Price, Debbie and Bernard Duncan, Sarah Jane Kenley, and many other friends. 
A graveside service was conducted Sunday, Sept. 24, 2023, at 2:30 p.m. in the McCoy Family Cemetery. The family received friends prior to the service Sunday at the McCoy Funeral Home, 150 Country Club Drive SW, Blacksburg.