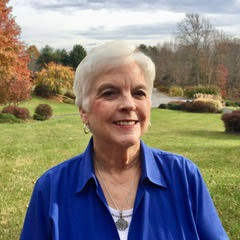 Susan Mays Meredith, 75, of Blacksburg, peacefully passed Monday, Sept. 18, 2023.  
She was born Feb. 5, 1948 in Richmond. She was preceded in death by her parents, Mr. and Mrs. Vernon L. Mays.  She is survived by her husband of 54 years, Dr. Joseph W. Meredith; three daughters, Andrea Yeager, Katherine James (Brian), Sarah Bono (Bobby); brother, Vernon Mays Jr. and sister Betty Jurgens; and nine grandchildren.
A Celebration of Life service will be held at McCoy Funeral Home, Blacksburg, Virginia Sunday, Oct. 1, 2023 at 3 p.m.  The family will be receiving guests after the service.  Interment will be private at Memorial Gardens of the New River Valley.
In lieu of flowers, please consider donating to the Renaissance Music Academy designated for the New Building Fund or the Joe Meredith Scholarship fund at www.rmahome.com.