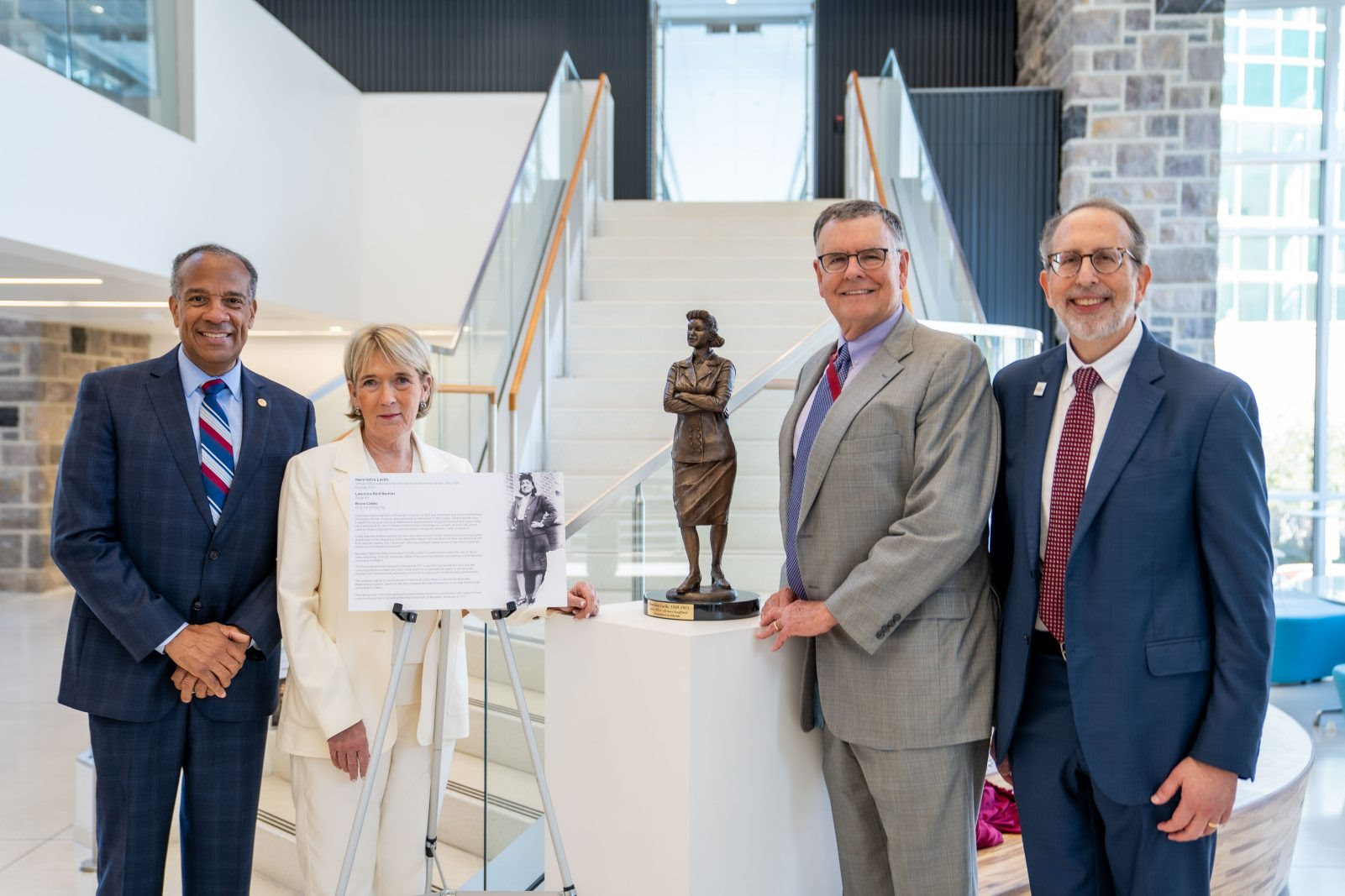 The Fralin Biomedical Research Institute at VTC, the Virginia Tech Carilion School of Medicine, and Carilion Clinic each unveiled statues of Roanoke native Henrietta Lacks in their facilities on Wednesday to honor the contributions of the woman whose rare "immortal" cells have supported decades of scientific research and medical breakthroughs.
The three partners, represented by Carilion Clinic Chief Executive Officer Nancy Howell Agee, VTC School of Medicine Dean Lee Learman, and Michael Friedlander, executive director of the Fralin Biomedical Research Institute and Virginia Tech's vice president for health sciences and technology, were among the more than 275 individuals, civic groups and organizations that helped fund the statues through the nonprofit Roanoke Hidden Histories, which commissioned the work as a means of cementing her legacy and creating a lasting reminder of Lacks' contributions, not only to human health, but to the way scientists and physicians work to improve it.
"The life of Roanoke's Henrietta Lacks has left an enduring legacy on medical advancements, health care ethics, and patients' rights," Learman said. "Our students will look upon her statue each day as a reminder of the trust patients invest in their physicians and the origins of distrust felt by members of historically underserved communities. With this recognition, our hope is for future generations of physicians to continue shaping more inclusive and caring health care institutions for everyone."
Agee highlighted Lacks' contributions to medicine and the ethics of patient care.
"We understand Henrietta Lacks' place in Roanoke's complicated history that regrettably included a time of segregated health care," Agee said in a small ceremony at Carilion Roanoke Memorial Hospital. "Today, we affirm our determined commitment to identify and close gaps in health inequities. We're humbled standing beside Mrs. Lacks' likeness. We honor her for her cells' role in medicine that has saved lives time and time again. And we celebrate her because her story has helped the health care community change the ethics guiding how we care for our patients."
Friedlander noted the appropriateness of honoring Lacks not only in Roanoke, but at the research institute in particular.
"The amazing thing in my mind is how her cells have lived on for decades in laboratories all over the world, including right here at the Fralin Biomedical Research Institute," Friedlander said. "This statue has a special meaning of stewardship, obligation, and sensitivity. Today is a day to commit to reflecting, it's a day to deeply appreciate, understand, and pay due respect, calling out and recognizing the injustice that was done while honoring Henrietta Lacks and her family.  These commitments embody the power of remembering history, and bringing art to science in the service of humanity."
The statues were created by artist Lawrence Reid Bechtel, a former Virginia Tech English professor who lives in Blacksburg, based on a concept drawn by Roanoke artist Bryce Cobbs. Cobbs, known for his murals around Roanoke, had only two surviving photos of Lacks to guide his work.
The artists, city officials, and others who supported the project, including Lacks' grandson, Ron Lacks, were part of the statue unveiling and dedication in downtown Roanoke's Lacks Plaza.
Lacks was born in Roanoke in 1920 and lived here as a small child before moving to Clover, Virginia, and eventually to Maryland. In 1951, Lacks, a Black woman, was treated for cervical cancer at Baltimore's Johns Hopkins Hospital. Some of her cancer cells were extracted for use in research without her knowledge or consent. At the time, there were no federal regulations or restrictions on the use of patients' cells in research.
Lacks died the following year, but her cells were unique in their ability to continuously grow and divide in the laboratory. Now called the "HeLa" cell line after the first two letters of her first and last names, the "immortal" cells have helped enable some of the most important advances in biomedical research.
Between 1953 and 2018, more than 110,000 scientific publications cited the use of HeLa cells, including, in three instances, Nobel Prize winning research, according to the National Institutes of Health.
"The combined support of Virginia Tech and Carilion Clinic in sharing the long-hidden history of Henrietta Lacks' impact on medicine has been deeply meaningful to the community," said Nathaniel "N.L." Bishop, senior associate dean for diversity, inclusion, and student vitality at the school of medicine and chief diversity, equity, and inclusion officer and senior vice president at Carilion Clinic. "It is fitting that with these maquette statues in our health care, medical education and biomedical research settings, Henrietta's legacy will be front and center for years to come."
Virginia Tech