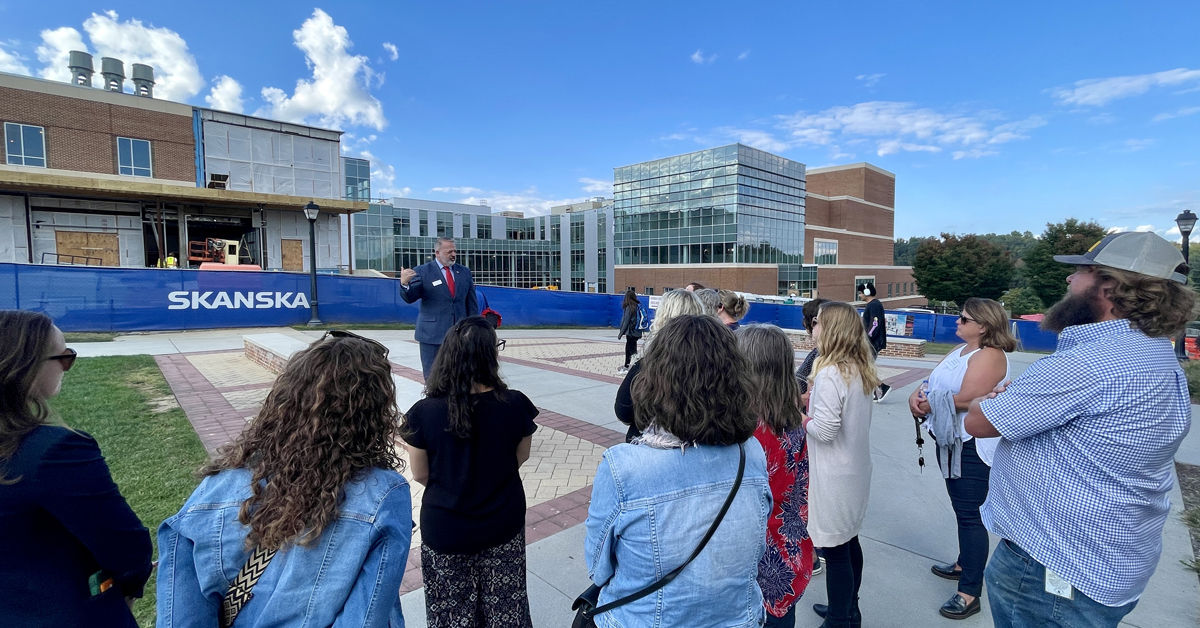 More than 50 K-12 teachers, administrators and counselors from across the New River Valley gathered for food, fellowship, and a preview of the new Artis Center for Adaptive Innovation and Creativity at Radford University during the Highlander Education Appreciation Reception on Tuesday, Oct. 3.
Educators got their first look at the state-of-the-art, 178,000-square-foot complex built for collaboration between the arts and sciences. The Artis Center is set to open for classes in fall 2024.
"It looks really impressive," said Megan Arnold '98, school counselor for the Southwest Virginia Governor's School in Pulaski. "Once students see this, they are going to want to consider Radford."
Arnold and the group were briefed on the Artis Center's programming and layout by Tim Channell, interim dean of the College of Visual and Performing Arts. Channell outlined the building's capabilities, gathering spaces and potential to serve as a hub for the entire Radford University community.
"Our plan is that we will have activity going on all the time," Channell said, noting that space will always be available for musicians, artists and designers to perform and perfect their skills. Channell detailed the maker space that will allow all students to use 3D printers, CNC routers, laser engravers and other power tools for creation and experimentation.
"This has huge potential for students to intertwine any curricular study with the ability to design and build things," said Christian Miller '11, a technical education teacher at Pulaski County High School.
While the Artis Center will serve as the home of CVPA and include significant clinical and classroom space for the Waldron College of Health and Human Services, the greater vision is that it will offer vast possibilities to all students.
"I'm hearing that students are very interested in this interdisciplinary approach to education," Arnold said. "What I love is that Radford is making the investment to invite us out to take a look at what's new."
"It's going to have a wide audience and be a place for diverse learners that has many applications for practical education," Miller added.
The center is named for Nancy E. Artis '73 and her husband H. Pat Artis, Ph.D., who gifted the university $6 million to support scholarships in the Waldron College of Health and Human Services, the College of Visual and Performing Arts and the Department of Athletics.
Following the Artis Center presentation, the educators made a stop inside Radford's Esports Center in Cook Hall before enjoying hors d'oeuvres at The Highlander Hotel Radford's rooftop restaurant, the Bee and Butter. President Bret Danilowicz was on hand to meet the educators and share more about the university's recent developments.
"We are delighted to have you here to see the 'new Radford,'" Danilowicz told the group.
The outreach event, coordinated by Alumni Relations, Intercollegiate Athletics, Enrollment Management and the College of Education and Human Development, left the educators with a rich experience to share at their home schools.
"I'm going to say to my students, 'You know what I did yesterday?'" Arnold said of her Radford visit. "They're going to see the pictures I took, and I think they're going to be excited about what they see."
Patrick Reed for Radford University