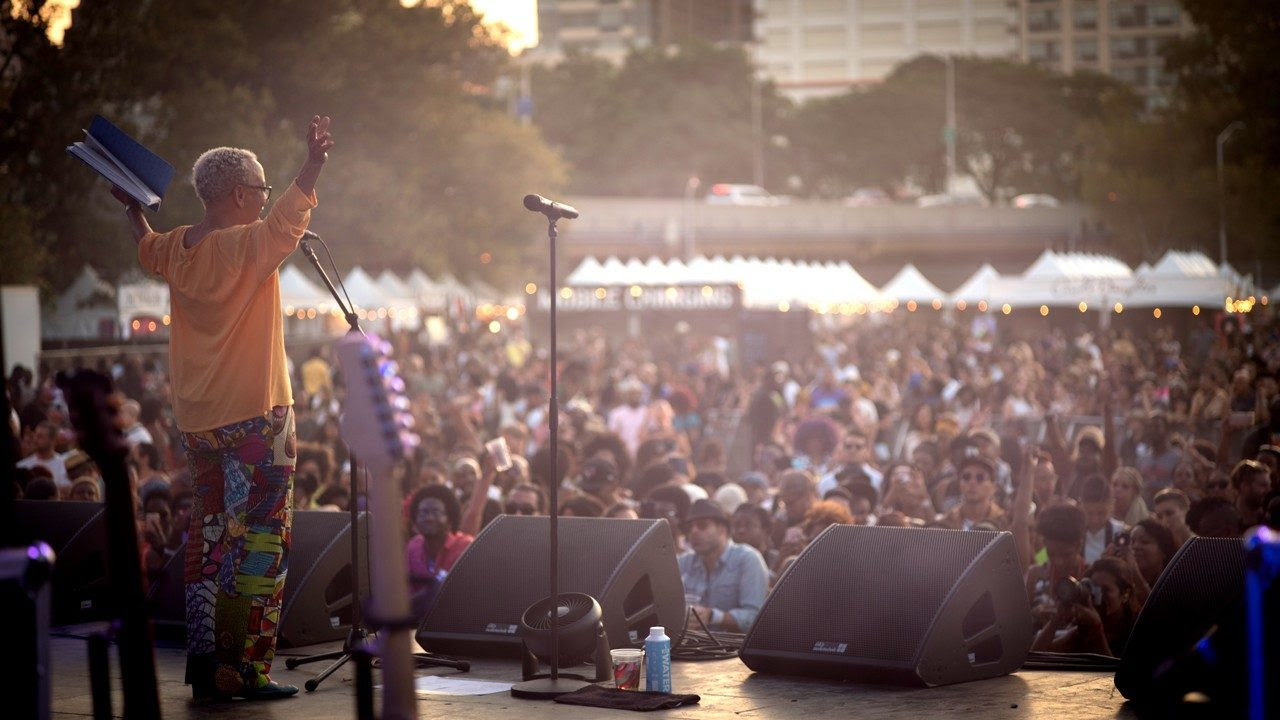 BLACKSBURG – The night was mild for January in Blacksburg.
On this particular evening, Jan. 27, Nikki Giovanni settled herself in and went to bed. At the same time, several hundred miles away in Park City, Utah, a crowd of movie makers gathered for the 2023 Sundance Film Festival, one of the largest independent film competitions in the United States.
The results of that evening would propel "Going to Mars: The Nikki Giovanni Project" into a trajectory that would land it with HBO and as a contender for the Oscars.
Unlike the renowned poet and emeritus professor from the Department of English at Virginia Tech, who was having a peaceful evening at home, the directors and producers — Michèle Stephenson and Joe Brewster of Rada Studio — were waiting in anticipation. Would their film, a documentary about Giovanni, win the U.S. Documentary Competition at the prestigious film festival?
They were not disappointed. Out of the competing 12 documentaries, their movie won the Grand Jury Prize for U.S. Documentary and caught the attention of HBO Documentary Films. The company recently announced its acquisition for U.S. and Canada television and streaming rights of the documentary. "Going to Mars" will debut on HBO and HBO Max in 2024.
The documentary dives deep into the life of Giovanni. Rising to prominence in the 1960s, Giovanni's writings and television appearances have left a lasting mark on American culture. The film blends intimate candid realism, live poetry readings, and archival footage to portray Giovanni's influence as both an artist and a social activist. It also touches upon her personal challenges, including her experiences with seizures and memory loss.
"Nikki Giovanni is an important icon in the Black American community," said Stephenson. "She embodies the spirit of creating provocative counternarratives that have impacted and inspired the Black diaspora over decades. Telling her story is an integral part of our artistic vision and mission at Rada Studio. Engaging with and celebrating the complexity of Black humanity is what we do. Nikki's ability to challenge conventional norms of how we see the world and ourselves is exceptional."
There is a moment in the film, when Giovanni opens a door, revealing a galaxy. This space-aged moment encapsulates the poet's thoughts.
"I believe in moving forward," she said, "if you keep looking at what you did, you won't focus on what you can do in the future."
This sentiment resonates with the essence of the documentary, which not only looks at her past, but also her continued influence and relevance.
The documentary is a result of a collaboration between Confluential Films and Rada Studio. With the backing of notable figures such as Taraji P. Henson, who voices Giovanni's poetry and serves as an executive producer, the film has garnered significant attention. It also was screened in the spotlight section of the 61st New York Film Festival in September.
"I hope audiences are challenged by this film to create their own future based on our collective history," Brewster said. "And that's a different form of Afrofuturism. For me, it's very exciting to birth this 'baby' that basically says the history is not what you think it is. And you can question that. There is no contradiction in what she's saying. What is Afrofuturism? It's defined literally as a conversation between the Black past and the Black future; that's what Nikki does."
To help it qualify for the Oscars, "Going to Mars: The Nikki Giovanni Project" will be screened in theaters this fall.
As the world waits for its wider release, Giovanni's story will continue to encourage many generations.
"Understanding the intergenerational impact of her work is really important to me," Stephenson said. "I hope that those who don't know Nikki Giovanni will be inspired to know more about her and for those who know her work will deepen their appreciation for her contributions."
Giovanni's tenure at Virginia Tech was not just marked by her role as a professor in the Department of English. For many years, she actively engaged with students, inspiring them with her passion for poetry and literature. Recognizing the importance of nurturing young talent, Virginia Tech, in collaboration with Giovanni, established the Giovanni-Steger Poetry Prize. This annual award celebrates the poetic talents of students, offering them a platform to showcase their work and earn recognition. The prize, named in part after Giovanni, stands as a testament to her enduring legacy at the university and her commitment to fostering the next generation of poets.
But looking back at the Sundance Festival win and talking about the movie, Giovanni gives Virginia Fowler, also emeritus professor in the Department of English at Virginia Tech, credit for encouraging her to undertake this project and helping with the logistics involved in the production. Fowler is also a co- producer of the film, as well as appears in the film.
"Ginney played a significant role. She knew my work and history well, so she made suggestions on what to include, like pieces from my time at the Apollo Theater," Giovannie said. "It was a collaborative effort."
And that effort extends to the Virginia Tech community as well. In collaboration with students, the production company designed a replica of Giovanni's living room for filming on the Anne and Ellen Fife Theatre stage in the Moss Center. However, the COVID-19 pandemic canceled that part of the project. As a result, they used footage from the Moss Arts Center's Cube, giving the film a more impressionistic feel. Brewster said this worked better for the film, but they were sorry to disappoint the design students.
Charles Dye, associate professor in the School of Performing Arts, along with his students, also helped during the planning phase.
"We had tremendous support from the students, staff, and professors at Virginia Tech," Brewster said. "The footage of the sessions required the approval and participation of the students. And students also volunteered and were hired to assist the production team. And they rocked."
Jenny Kincaid Boone for Virginia Tech