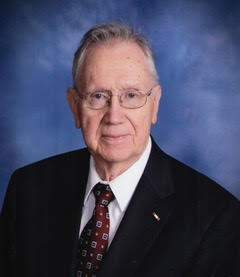 James Riley "Jim" Montgomery, 93, retired attorney, Major General, and Virginia Tech administrator, passed away peacefully in his Blacksburg home on Oct. 24, 2023. 
Jim was born to Elizabeth and Charles Montgomery in Knoxville, Tenn. He attended Knoxville High School and was active in sports and the Boy Scouts, achieving the rank of Eagle Scout. Continuing his participation in Scouting after high school, Jim served as National Conference Chief of the Order of the Arrow in 1950. 
He graduated from the University of Tennessee in 1952 and entered the Army as a Second Lieutenant. On leaving active duty, Jim continued his military career in the Army Reserves while also pursuing his education. He earned his MA from the University of Tennessee and his PhD from Columbia University. Jim started his career in university administration at a time of great demand for higher education, and he pioneered the field of Institutional Research and Planning. He served as the Director of Institutional Research at the University of Tennessee and later at Virginia Tech. Jim was named a Distinguished Member of the Association of Institutional Research and helped to organize the Southern Association of Institutional Research (SAIR). The SAIR established an award named in Jim's honor, and he was the first recipient of the James R. Montgomery Service Award. He authored five books and published over 50 papers in history and educational research. 
In addition to his academic career, Jim remained in the Army Reserves for 36 years and retired as a Major General. His assignments included the command of the 310th Theater Army Area Command with a NATO Cold War mission for which he was awarded the Distinguished Service Medal. 
After retirement from Virginia Tech, Jim obtained a JD from Dickinson School of Law, Penn State. He returned to Blacksburg, founded Montgomery Law, and worked for 27 years as an attorney. His volunteer activities included service on the Boards of the Virginia Tech YMCA, the Agency on Aging, the Montgomery Chapter of the AARP, and the Blacksburg United Methodist Church. In addition, Jim served with the Montgomery County Christmas Store, the Boy Scouts of America, the Christiansburg-Blacksburg Rotary Club, the Torch Club, and the American Legion. He also served at state and national offices of the Reserve Officers Association and as a member of the Board of the Roanoke Retired Officers Association. 
Jim was preceded in death by his beloved wife of 59 years, Mary Bryan Blackshear Montgomery. Survivors include their children:  Charles T. Montgomery (Cathy) of Richmond; James B. Montgomery (Diane) of Charleston, S.C.; and April D. Montgomery (Kelvin) of Norwood, Colo.; grandchildren:  T.J. Montgomery (Kati), Meagan M. Lemon (Preston), Ivy R. Montgomery, Suzannah M. Gills (Daniel), and Madison J. Montgomery (Heather); and eight great-grandchildren. 
A memorial service will be held at 11 a.m. on Jan. 13, 2024, at the Blacksburg United Methodist Church. He will be buried in Arlington National Cemetery at a later date. In lieu of flowers, the family suggests contributions may be made to the Endowment Fund of the Blacksburg United Methodist Church or to a charity of one's choice. Condolences may be expressed at www.mccoyfuneralhome.com.