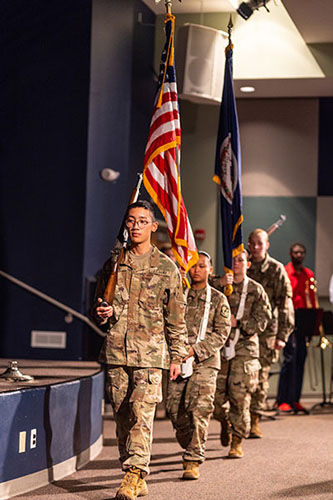 Radford University has been named to Military Times' 2023 "Best for Vets: Colleges" list, the most comprehensive ranking of schools that assist service members and veterans.
The results of "Best for Vets: Colleges" are drawn from Military Times surveys of hundreds of institutions around the country, with the goal of recognizing schools where veterans of the United States military can receive the best education and support.
In its most recent rankings of the top 325 schools, released Nov. 6, the news outlet cited Radford University and its Military Resource Center (MRC), which offers programs geared toward former service members as they integrate into academic and professional lives.
Radford, which has branches of the MRC on both its main campus and at Radford University Carilion in Roanoke, earned its first of numerous "Best for Vets" rankings in 2014.
The rankings are determined by student success metrics measured by the U.S. Department of Education – including retention, grade point average and graduation – as well as the range of military-specific resources and the level of financial assistance an institution offers, according to the site.
"Our comprehensive survey and thoughtful methodology make our rankings best in class," said Mike Gruss, editor-in-chief at Sightline Media Group, parent company of Military Times.
On a national scale, Virginia is home to the second-largest population of active-duty military personnel and the largest population of veterans under age 40. In his homecoming address on Oct. 16, President Bret Danilowicz announced that one of the goals of his upcoming two-year strategic plan would be to increase its relationships with former service members.
"Radford University is attractive to veterans for our health and science programs and our outdoor experiences, and we have been nationally recognized as a military friendly school," Danilowicz said. "Already, approximately 400 students per year use GI Bill funds to attend Radford.
"We can make this number grow to serve those who served."
Also during that presentation, Shaun Landry, a Marine Corps veteran and business management major, spoke about his experiences at Radford.
"Outside of class, everyone at the MRC is there for me. They have my back and helped me pick my path," Landry said.
"That sense of community is great about our MRC – everyone is like-minded and supports each other."
Neil Harvey for Radford University