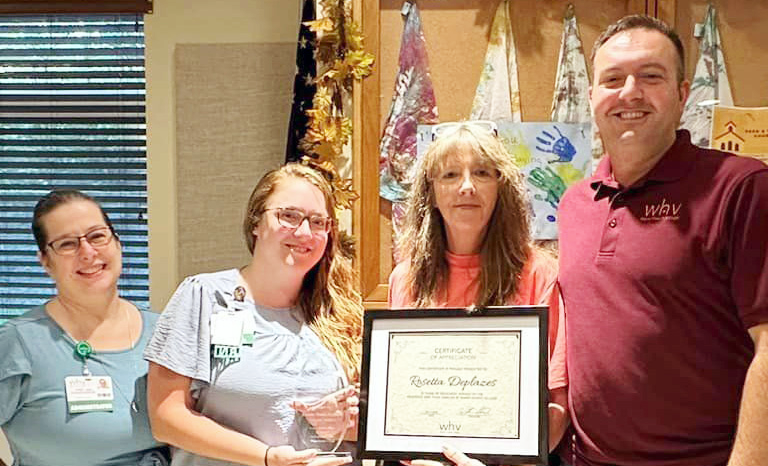 BLACKSBURG – Warm Hearth Village takes great pride in its workforce. Employees are connected by a strong mission to serve seniors and this manifests itself in many ways including the highest quality care and services as well as long-term loyalty.  
Recently, two employees were recognized for more than 30 years of service with the organization. 
Barry Hunter started as a stock clerk at Showalter Center 32 years ago. He then spent several years in maintenance and is currently on the grounds crew. 
"It is definitely harder to work outside, but I like it the best," Hunter said. 
When asked why he has stayed so long he said it was because of all the people he works with. 
"All my supervisors, the people I work with, we all get along really well. Warm Hearth Village is a great place to work," he said.
In 1988, Rosie Deplazes started as a nursing assistant, became a certified nursing assistant and is now a registered medication aide.
"It's definitely about the residents," she said. "It's like I have 100 sets of grandparents. They are just awesome. I hope to retire from here."
An additional 19 employees will celebrate anniversaries of 20 or more years in 2023 and 28 have more than 10 years of service.
President and CEO William Lester, who has been at Warm Hearth for 20 years, said, "I believe the culture here is like no place else. Residents show their appreciation to our employees as do their co-workers in so many ways. As an organization we strive to provide advancement opportunities and rewards that help employees grow and feel appreciated."
Warm Hearth Village is a nonprofit senior living community in Blacksburg that provides a full continuum of living options on our campus and in the home.
Submitted by Warm Hearth Village