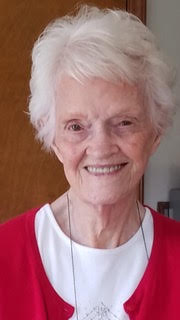 Faye Mullins Scott, 93, of McCoy, died Wednesday, Nov. 8, 2023, at Princeton Community Hospital in Princeton, W.Va. 
She was born in Tonkawa, Oklahoma on May 21, 1930, to the late Owen and Maggie Mullins. She was preceded in death by her husband of 73 years, Harry Dudley Scott; brothers Ernest Mullins and Obie Mullins; sisters Nona Bolling Cassada, Artie Church, Rubel Graham Barnett and Opal Shortt; and daughter-in-law Donna Merrix Scott.
Faye is survived by her five children, Alex Scott of McCoy, Sherry Warren (Bill) of Stockbridge, Ga., Susan Hogan (Tim) of Springfield, Va., Ellen Cumby (Guy) of Richmond, Va., and Tim Scott (Ellen) of Blacksburg; 10 grandchildren; 12 great-grandchildren; sister-in-law Cleo Scott Beachum; and numerous nieces and nephews.
The family would like to thank the many friends and family who have supported Faye over the years, especially Carol and Bobby Roop. 
Faye enjoyed being with her family, sitting on the porch, reminiscing, and cooking for anyone who visited her home. She was "mom" for her nieces and nephews who had lost their mothers.
Faye was a founding member of Community Christian Church in McCoy and was a faithful member until her death. She had taught Sunday School, VBS, had been in charge of the meal ministry, and was in charge of the card ministry for years. Faye also sent hundreds of personal cards every year to family and friends.  Faye was also a member of the Coal Mining Heritage Association.
Funeral services were conducted Saturday, Nov. 11, 2023 in the McCoy Funeral Home Chapel with Mr. Chris Brandow, officiating. Interment followed in the McCoy Family Cemetery, in McCoy. The family received friends prior to the service at McCoy Funeral Home, 150 Country Club Drive, Blacksburg.