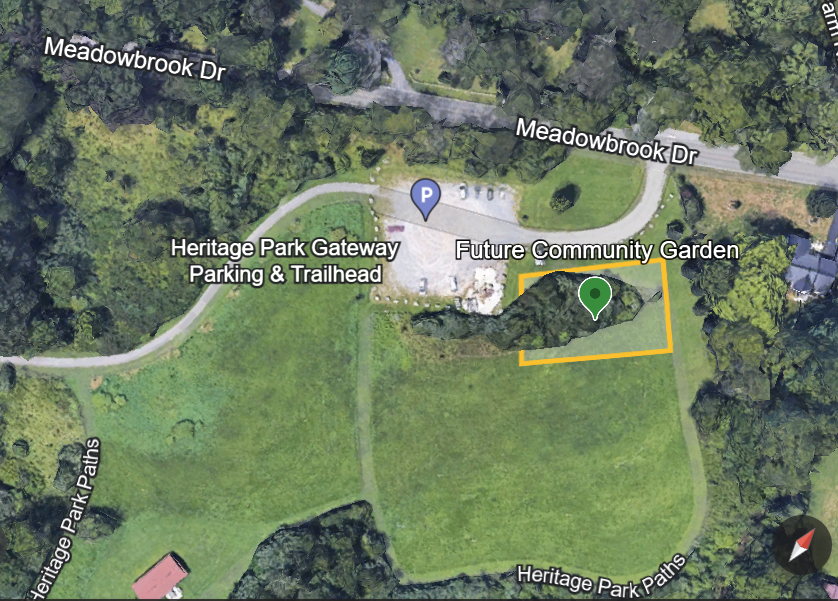 BLACKSBURG – The Town of Blacksburg, along with local nonprofit, Live Work Eat Grow (LWEG) plans to establish a new community garden near the lower parking lot of Heritage Park and Natural Area on Glade Road. 
"The success of the Blacksburg garden program has increased community interest," said Kim Thurlow, Housing and Community Development Initiatives Manager. "Due to the demand for new community garden plots, in 2022, the town allocated a portion of its American Rescue Plan Act (ARPA) funding to LWEG to collaborate with the town and establish two more community gardens."
Live Work Eat Grow provides the day-to-day management of the community gardens in the Town of Blacksburg and offers diverse programming open to all Town residents focused on growing and preparing healthy food.
In recent months, LWEG in partnership with town staff has explored prospective community garden locations, on either town-owned land or in partnership with a private landowner. The goal over the next three years is to establish approximately 40 additional community garden plots at new locations for use by town residents. 
In early November, the forthcoming Heritage Park garden site will be cleared of invasive plants and brush. The first phase of this project will involve suppressing invasive plants, ameliorating the soil, and installing garden beds and fencing. In total, the first phase is expected to take about a year and a half to complete, with an anticipated public opening in the spring of 2025. 
"This site will help meet the growing demand for garden space in Blacksburg and will allow us to serve a new community in Tom's Creek Basin. Lower Heritage is becoming a hub for outdoor recreation with the trail systems, terrain park, pavilion, and the new Brush Mountain properties close by. A garden will make a great addition," said Steve Kruger, Garden Coordinator for LWEG.
The garden at Heritage Park will join three existing community gardens in town: The Garrison Garden (2021), the Wong Park Garden (2020), and the Hale Garden (2009). The Town's Community Garden program was the subject of a recently published article in Virginia Town and City Magazine, and the recipient of the 2024 Virginia Municipal League (VML) Innovation Award in the Community Health Category. The category focused on localities that are building healthy community environments through active lifestyle programs, nutrition education, and improving access to healthier food choices. In addition to receiving the Innovation Award for Community Health, the Town of Blacksburg also received the VML President's Award for Innovation, the top honor in the competition.
Stay tuned for more details on the garden's progress, volunteer opportunities, or how to sign up for a garden plot.
Town of Blacksburg