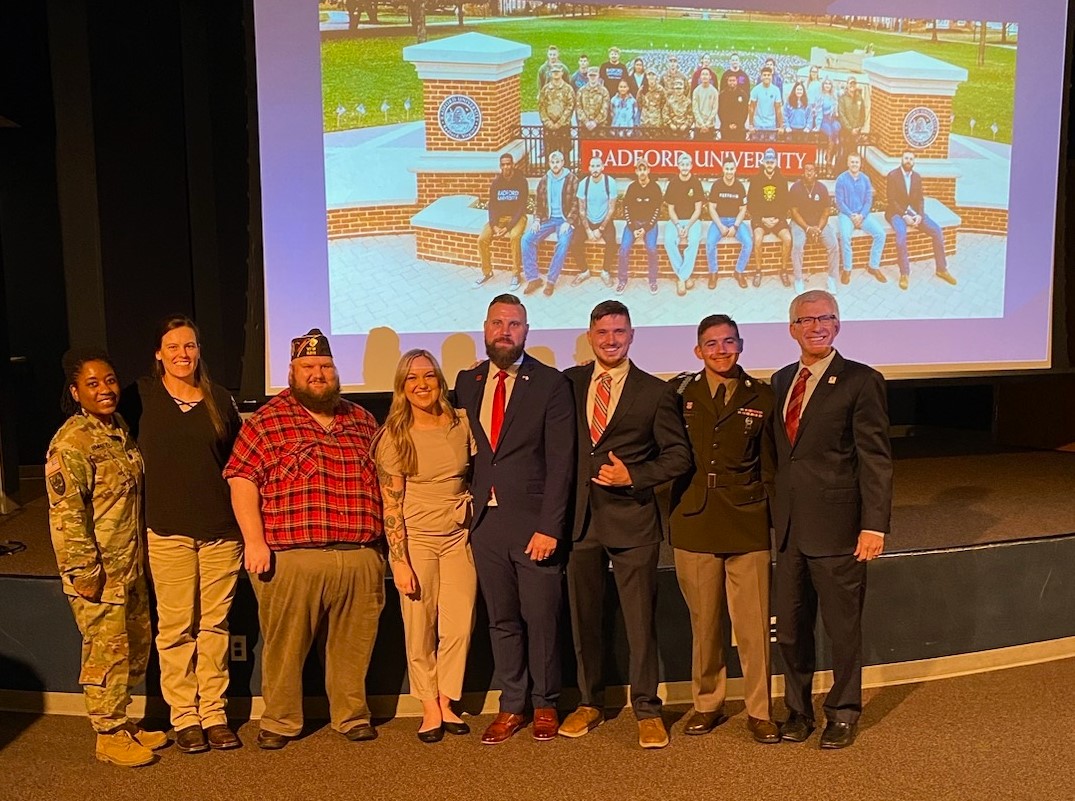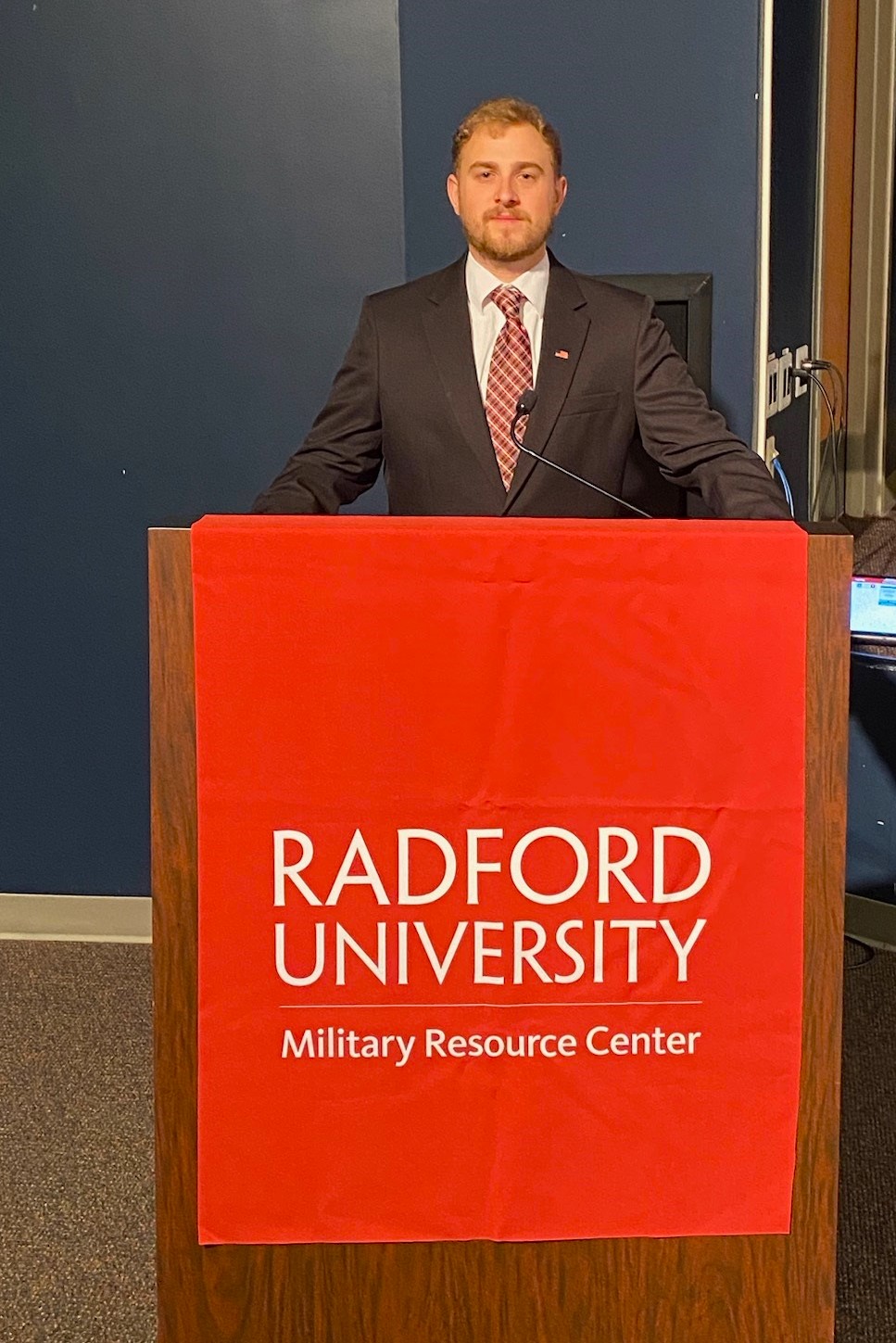 Lori Graham
Contributing Writer
Radford University welcomed military service members from every branch of the United States Armed Forces during their annual Veteran's Day Celebration on Nov. 10, 2023. 
Students, faculty, staff, and special guests, and especially veterans and military members currently serving, were among the many that attended the event in the Bonnie auditorium on RU's campus. 
Special guests were welcomed by Marine Corps Veteran Shaun Landry, who began the ceremony by thanking everyone for their attendance and support. Special Radford University administration included Mayor David Horton, President Dr. Bret Danilowicz, Provost and Senior Vice Present Dr. Bethany Usher, Vice President for Enrollment Management and Strategic Communication, Dr. Danette Gomez Beane, members of the RU Board of Directors, and Radford City Council members. 
Landry, from Tazewell, Virginia, served as an infantry rifleman and a Joint Fires Observer in the 3rd Battalion 5th Marine Regiment from 2015-2020, reaching the E5 Sergeant ranking. 
"From the coast of Australia to Southeast Asia and even the Middle East, my Marine Corps journey has brought me all over the world," Landry said. "I conducted two deployments while I was in the service and attended various leadership schools. I am a current student veteran and co-President of the Student Veterans Organization here on the main campus at Radford University. I am studying business management and plan to graduate in 2024."
Air Force Guardsman Justin Jones also addressed the audience, welcoming veteran supporters that partner with the military students in assisting with bringing important programs and resources to the University. 
Some of those in attendance were Barrett Bass, Radford University Alumni and Veteran of the US Navy serves as the Veterans Outreach Coordinator in Salem, Virginia. Allison Patrick is the Resource Specialist with the Virginia Department of Veterans Services. Danielle Rock is an RU alumni and veteran of the US Army and is also the Suicide Prevention Coordinator with the Virginia Department of Veterans Services. Additional organizations that were recognized by Jones were the Radford VFW Post 776, the New River Valley Marine Corps League, and the members of the New River Valley Veterans Council. 
Originally from Baltimore, Maryland, Jones earned his associate degree in Humanities at Valley Forge Military College in 2012 and is currently serving in the U.S. Air Force Air National Guard as a 2G051 Logistics Planner, beginning his enlistment in 2020. He is a psychology major at RU and will be graduating in December of 2023. 
"I am Scribe of the Student Veterans Organization here at Radford University main campus. My plans after I graduate is to attend grad school studying neuroscience," Jones said. 
Radford University has a welcoming atmosphere and supportive resources that have garnered much attention and some impressive awards of recognition. RU was recently given the honor of a Military Friendly Silver Status college and has been increasing their rankings every year for the previous seven years. The Military Times also has named the University as a "Best for Vets" institution. 
"And for the first time," Landry said. "We have added the designations of being a Military Friendly Spouse School, and a Guard Friendly School. In January of this past year, we were excited to be featured on national television on the Lifetime Network. Montel Williams and his tv show Military Makeover spotlighted Radford University in a segment called Operation Career."
The video may be viewed on the YouTube website.
Senior Criminal Justice student, Amanda Bishop, served in the US Army from 2012 to 2016 and is a resident of nearby Dublin. Serving as an Automated Logistic Specialist, Bishop became skilled at fixing, repairing, and recovery of a variety of wheeled and armored vehicles during her tour of service time that took her to places like South Korea, Colorado, and Kuwait. 
"During the four years of my active-duty service, I got to see and experience all kinds of stuff. But since serving, some things will never be the same to me, like how I see our country's flag and how I hear the national anthem," Bishop said. "I think one of the best things about serving is getting to be around certain people because sometimes people make places that much better even if the place isn't that great." 
One point that resonated throughout each veteran's service was the community and sense of purpose they felt with their fellow service members. Transitioning from a military environment into civilian life can be difficult for some individuals and their families. 
Rob Boreman, an Army Veteran and student at Radford University, serves as the Student Veteran Organization Vice President. The MRC he said, provides a place to connect with others like him that share similar experiences. 
"The dedication and loyalty to service and our communities give veterans the strength to weather storms but it is the support of our communities that keep veterans gong the next step in our post-service missions," Boreman said. 
Radford University's Military Resource Center is not only a place where past and present service members and their dependents can find camaraderie and community, but also provides support for military dependents as well. One military dependent, Garrett Armstrong has not one, but two parents in the service. Armstrong found support through the Military Resource Center at RU during his sophomore year and said his time at the University has improved since then. 
"At first, I was a little nervous about fitting in being a military dependent and expected the office to be full of old army dudes telling war stories and fartin' all the time, and to be fair, there probably is a majority of veterans and active-duty students in there," Armstrong said. "But the MRC was not what I had pictured. It is not just an office on campus that just does business, it is a place to be with people who I have a lot in common with." 
Service members and veterans in crisis with mental health such as depression, anxiety, anger, or feelings of wanting to hurt themselves or someone else, should know that help is available 24 hours a day, 7 days a week. 
The Veterans Crisis Line can be reached at 1-800-273-8255. A confidential crisis chat is also available at VeteransCrisisLine.net, by texting 838255, or by dialing 988, then press 1.