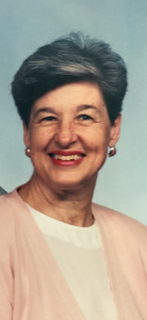 Joan Reed Robinson, 82, of Blacksburg, died Sunday, May 1, 2022, at her home.
She was born in Christiansburg on July 16, 1939, to the late Fred Aaron Reed and Edith Helms Reed. She was also preceded in death by her brothers, Denny Reed and David Reed.  
She is survived by her husband, Douglas (Teeter) Matthew Robinson, Jr.; daughters and sons-in-law, Kitty R. Branch and David Branch, Teresa Kay Robinson, Kelly R. Massie and Jason Massie; a son and daughter-in-law, Jeffrey D. Robinson and Andrea Robinson; grandchildren Nikole Branch Seavy and husband, Ryan, Kasey Branch Prigot and husband, Eric, Kelley E. Robinson, Will Sharpe, Matt Sharpe, Matthew E. Massie, Jenna N. Massie, Hannah E. Massie; great-grandchildren Kane W. Prigot, Lennon E. Prigot, and McCall M. Prigot; a brother and sister-in-law, Rick Reed and Anita Reed; sisters-in-law Betty Jo Prater and Bertha Crabtree; and a brother-in-law, Jimmy Robinson. 
Funeral services were conducted Thursday, May 5, 2022, at Christiansburg Baptist Church with Pastor Sean Couch officiating. Interment followed in Roselawn Memorial Gardens.
In lieu of flowers memorial contributions may be made to St. Jude's Children's Research Hospital, 501 St. Jude Place, Memphis, TN 38105-9959.
The family received friends Wednesday evening at McCoy Funeral Home, 150 Country Club Dr., SW, Blacksburg.