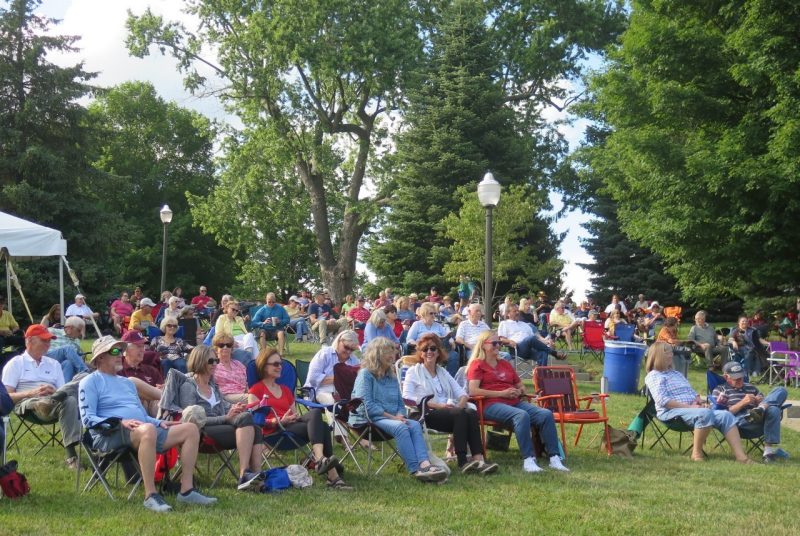 The Summer Arts Festival will bring free family fun  to downtown Blacksburg, offering a full schedule of music, theater, film, visual art, and other special events.
The festival is presented in partnership between the School of Performing Arts at Virginia Tech and the Town of Blacksburg. All events are free and open to the public. 
New this year will be a series of Thursday night concerts at the Blacksburg Presbyterian Church, culminating in a performance of W.A. Mozart's famous "Requiem;" a production of "Our Town" by Thornton Wilder in Theatre 101 featuring actors from Virginia Tech and the community; and children's activities in the new campus Living Learning Community building.
Live music will take place Friday evenings on Henderson Lawn at the corner of Main Street and College Avenue from 6 p.m. to 7:30 p.m. In case of inclement weather, the event will be canceled.
The schedule for the outdoor concerts is as follows:
The Domino Band (R&B) July 8
Gerry Timlin (Irish folk) July 15
Root Down (jazz, funk, and blues) July 22
Lua Project (Mexilachian) July 29
Thursday night indoor concerts will be presented at the Blacksburg Presbyterian Church, 701 Church St. All concerts begin at 7 p.m. The Mozart Requiem is a community sing event.
The schedule for the indoor concerts is as follows:
Alex Hassan (piano) July 7
Victorian Madness (Brian Thorsett, tenor; Richard Masters, piano) July 14
Bach cello suites (Benjamin Wyatt, cello) July 21
Mozart Requiem (community sing) July 28
The Lyric Theatre will present a series of free classic movie showings with all moving beginning at 3 p.m. unless otherwise noted.
The schedule for the classic movies is as follows:
"Casablanca" July 2, July 6
"Wayne's Word," July 9, July 13
Buster Keaton classics, July 23 and July 27
"Wings," July 23 at 7:30 p.m. 
Ben Model will provide live musical accompaniment for the Buster Keaton classics and "Wings." All movies, unless noted, begin at 3 p.m.
Buster Keason classics July 23 & 27
"Wings" July 23 (7:30 p.m.)
"The Godfather" July 30 & Aug. 3
The festival will also feature a live performance of Thornton Wilder's "Our Town," July 16 through July 18 in Theatre 101. "Our Town" won a Pulitzer Prize in 1938 for its intricate and at times heartbreaking exploration of human relationships. The performances will be directed by Amanda Nelson. Free reservations will be available online beginning June 15.
Perspective Gallery will host an exhibit this summer of artwork by students who are non-art majors but are taking art classes in the Virginia Tech School of Visual Arts. Artwork will be on display June 13 through Aug. 28 in the Perspective Gallery, located on the second floor of the Squires Student Center. A closing reception will be held on Aug. 26  from 5 p.m. to 7 p.m.
The festival will also present interactive story time with Joelle, an action-packed 60 minutes of high energetic, imaginative, and interactive storytelling, reading, and creating. This is appropriate for all ages but especially for ages 3 through ten. Story time with Joelle will be held July 9 and July 16 at noon and 2 p.m. in the  Creativity and Innovation District Living Learning Community building, 185 Kent St., rehearsal room.
As a special event, the festival will feature Blacksburg Market Square Jams, an official Cooked Road affiliated venue that caters to traditional old-time music. The jams will be held every Wednesday through Sept. 28 from 7 to 9 p.m. at the corner of Draper Road and Roanoke Street.
An Independence Day Celebration on July 4 will include a downtown parade sponsored by the Mt. Tabor Ruritans, live music, and fireworks at Municipal Park. t
Art at the Market will celebrate Blacksburg's vibrant arts community with an outdoor exhibit. July 16 from 9 a.m. until 2 p.m.
9 a.m.-2 p.m.
The Steppin' Out Street Festival will take place Aug. 5 and 6 and will feature more than 200 exhibitors.
Written by Susan Sanders