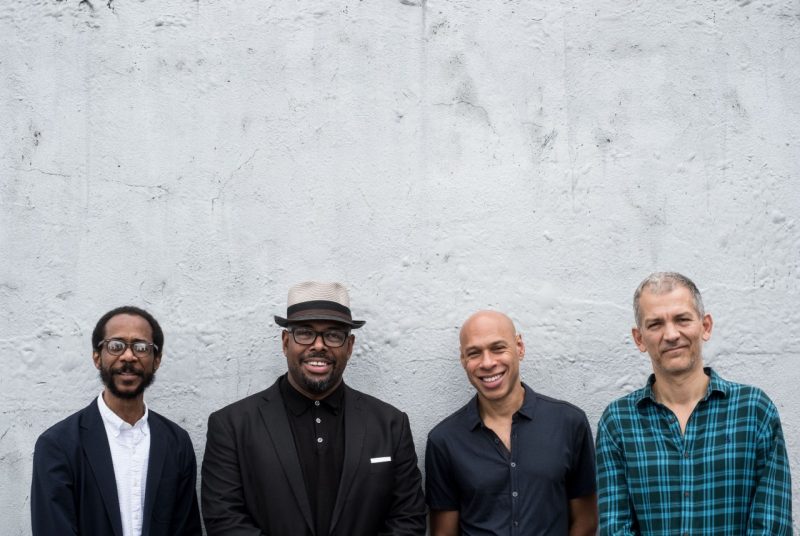 Acclaimed Jazz saxophonist and composer Joshua Redman formed his first permanent quartet in 1994, which resulted in his seminal work, "MoodSwing." While the quartet was only together for a year and a half, its musicians went on to become some of the most illustrious and influential musicians and bandleaders in modern jazz.
Join this inspiring ensemble as it reunites onstage at the Moss Arts Center for an unforgettable performance of new material alongside celebrated work on Tuesday, Sept. 27, at 7:30 p.m.
The performance will be held in the center's Anne and Ellen Fife Theatre, located within the Street and Davis Performance Hall at 190 Alumni Mall.
Often lauded for his ability to perceive and develop prodigious talent early on, Redman brought together a group of precociously talented musicians who would rapidly establish themselves as creative beacons to create "MoodSwing." After years of individual triumphs, the original group — Redman, pianist Brad Mehldau, bassist Christian McBride, and drummer Brian Blade — reunited in 2020 on the album "RoundAgain" and are performing together for "A MoodSwing Reunion."
Redman is one of the most acclaimed and charismatic jazz musicians to have emerged in the 1990s when he won the prestigious Thelonious Monk International Saxophone Competition, which marked the beginning of what would become an illustrious career spanning nearly three decades.
He has released more than 20 albums, earning multiple Grammy nominations. A favorite amongst critics' and readers' polls alike, his work with other prominent musicians includes jazz legends such as McCoy Tyner, Pat Metheny, Herbie Hancock, Charlie Haden, Chick Corea, Ornette Coleman, and Elvin Jones; popular music stars Stevie Wonder, Quincy Jones, the Rolling Stones, the Roots, and Dave Matthews Band; and classical music luminary Yo-Yo Ma.
A lyrical and intimate voice of contemporary jazz piano, Mehldau embodies the essence of jazz exploration, classical romanticism, and pop allure. From critical acclaim as a bandleader to major international exposure in collaborations with Pat Metheny and Renée Fleming, Mehldau's forays into melding musical idioms, in both trio (with Larry Grenadier on bass and Jeff Ballard on drums) and solo settings, has seen brilliant reworkings of songs by contemporary songwriters such as the Beatles, Cole Porter, Radiohead, Paul Simon, Gershwin, and Nick Drake, alongside his own significant catalog of original compositions.
Eight-time Grammy-winning bassist, composer, and bandleader McBride is the artistic director of the historic Newport Jazz Festival, the New Jersey Performing Arts Center, the TD James Moody Jazz Festival, and the National Jazz Museum in Harlem. He is also a respected educator and advocate for youth and serves as artistic director of Jazz House KiDS and the Jazz Aspen Snowmass Summer Sessions. In addition to artistic directing and consistent touring with his ensembles, he hosts NPR's "Jazz Night in America" and "The Lowdown: Conversations with Christian" on SiriusXM. Whether behind the bass or away from it, McBride is always part of the music.
Blade was introduced to music through the gospel and songs of praise at the Zion Baptist Church where his father, Brady L. Blade Sr., served as pastor. The drums eventually became his musical focus and during high school he began listening to the music of John Coltrane, Charlie Parker, Miles Davis, Art Blakey, Thelonious Monk, Elvin Jones, and Joni Mitchell. By the age of 18, Blade moved to New Orleans to attend Loyola University and was able to study and play with many of the master musicians living in New Orleans. In 1997, Blade helped form the Fellowship Band and he has been a member of the Wayne Shorter quartet since 2000. He has recorded with Daniel Lanois, Joni Mitchell, Kenny Garrett, Redman, Ellis Marsalis, Chick Corea, Marianne Faithfull, Norah Jones, Emmylou Harris, and Bob Dylan.