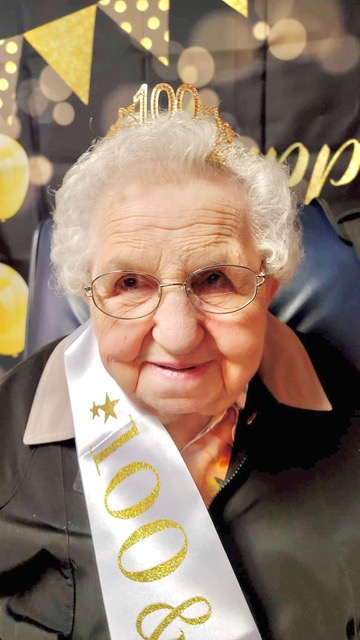 Eva Katherine Caldwell, 100, of Long Shop, died Sunday, Dec. 18, 2022.
She was born in McCoy on April 11, 1922, to the late George Thomas and Eva Smith Graves.  She was preceded in death by her husband, Brady W. Caldwell, daughter Glenna Whitt, brothers Carl, Joe, Robert, and Johnny Graves, sisters Lillian Graves, Roxie Carroll, and Gladys Lucas; and a granddaughter, Judy Albert. She was a resident of Long Shop for 47 years.
She is survived by her daughters and sons-in-law, Linda and R.H. Albert, Iris Ann Caldwell, Grace, and Phil Speirer; sons and daughters-in-law, Thomas and Delores Caldwell, Allen and Karen Caldwell; a sister, Vivian Davis Long; seven grandchildren; 10 great-grandchildren; and six great-great-grandchildren.
The family extends a special thanks to Good Samaritan Hospice, especially Karen, Todd, Brittany, Lottie, Morgan, and the on-call nurses.
Funeral services were conducted Wednesday, Dec. 21, 2022, in the McCoy Funeral Home Chapel with Pastor Delores Caldwell officiating. Interment followed in the Harless Cemetery.
Contributions may be made to the American Cancer Society or Good Samaritan Hospice.