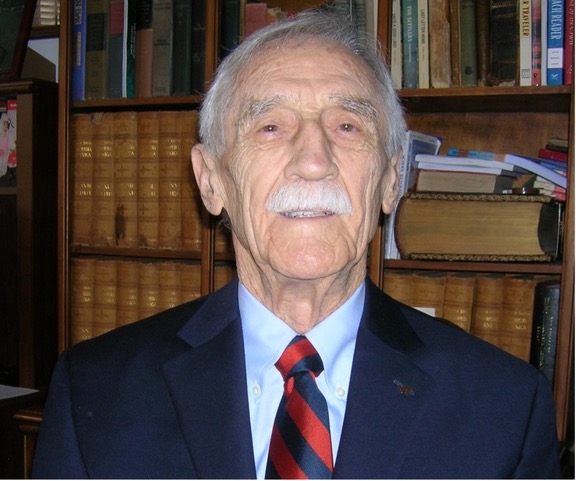 Dr. Glen Irving Earthman, Associate Professor Emeritus in Educational Leadership at Virginia Tech, passed away peacefully at his home in Blacksburg on March 26, 2023. 
He was born on Aug. 13, 1927, in Denver, Colo. to the late Clyde and Christina Earthman. He was preceded in death by his three sisters, Arlene Fletcher, Lucille Lehrer, LaVerne Turner; and daughter Barbara Sieloff, all of Denver. 
He attended South Denver High School, graduating in 1945. He immediately joined the Merchant Marine and subsequently the US Naval Reserve. Following the war, he attended The University of Denver receiving his B.A. in history/English and M.A. degree in English/Education. He was awarded his EdD degree in Educational Administration from The University of Northern Colorado. Glen loved life and his family very much and worked his entire life in a profession he enjoyed and admired. He started teaching in 1950 and never quit the profession for over 70 years. 
He spent 46 years at Virginia Tech teaching Educational Leadership and Planning and advising doctoral students. He also compiled an impressive record of research. He was recognized both nationally and internationally. He made many presentations of his work, including to the European Development Bank.
He was awarded the Researcher of the Year in 2015 by the Virginia Educational Research Association for outstanding research efforts in Virginia. Glen's research is listed in several Internet sources and is accessed by many students and professors worldwide. He chaired over 80 doctoral dissertations in his tenure.
He was involved in legal suites in several states concerning fiscal equity of state funding of school facilities. He presented his research in the famous Williams vs California landmark case of funding equity. 
In 1997-98 he served as the first Director of the National Clearinghouse on Educational Facilities for school facility planning. Prior to Virginia Tech, Glen served as the Executive Director for School Planning in the Philadelphia Public Schools for almost a decade. Glen also served as an Assistant Professor at the University of North Dakota in Grand Forks, and also served as a teacher and elementary school principal in Denver before he received his terminal degree at The University of Northern Colorado in Greeley. 
Glen maintained membership in both the Council of Educational Facility Planners, International and The International Society for Educational Planning. He served on the Governing Board of both organizations for numerous years. He also served as President of the International Society for Educational Planning. Glen was an accomplished pianist and organist. He substituted for organists in several churches in the Blacksburg area. 
He is survived by his loving and devoted wife, Julie Gilbertson Earthman, to whom he owes so much for his health and happiness; his beloved children, Erik Earthman and his wife, Carrie Earthman, Andrew Earthman and his wife, Victoria Earthman, Catherine Reinhardt, Douglas Mackall, and Suni Mackall, who were the delight of his existence. He is also survived by his wonderful grandchildren; Sorrell Perka, Mimi Perka, Gunder Perka, Bronwyn Earthman, and Gillian Earthman, all of whom were a very special and enduring part of his life. In addition, he has surviving nieces and nephews, Joan Mackey, Sandra Woetz, and Paul Fletcher all of whom live in Denver. 
Glen and Julie loved to travel and visited many exotic places such as Tibet, China, Taj Mahal, Petra, Jordon, South Africa, Timbuktu, The Grand Bazaar in Istanbul, Machu Picchu, sailed The Amazon River and the Yangtze River, rode camels on the Sahara Desert, visited the Soke in Marrakech, the Salt Mines in Poland, Hungarian castles, and almost every country in Europe and Scandinavia. They spent many Easter Sundays attending services in the Dome in Berlin, Germany. They also spent considerable time in northern England every year for at least 30 years where they rented a cottage in Kirkby Lonsdale for weeks upon end just to spend time together.
Glen was an active member of both Luther Memorial Lutheran Church and Christ Episcopal Church in Blacksburg. During his 50-year membership, he held different church offices. 
The funeral service was held at Luther Memorial Lutheran Church Thursday, March 30, 2023, with The Revs. Monica Weber and Scott West officiating. A reception greeting family and friends was held immediately following the service. In lieu of flowers, contributions may be made to Luther Memorial Lutheran Church Memorial Fund.