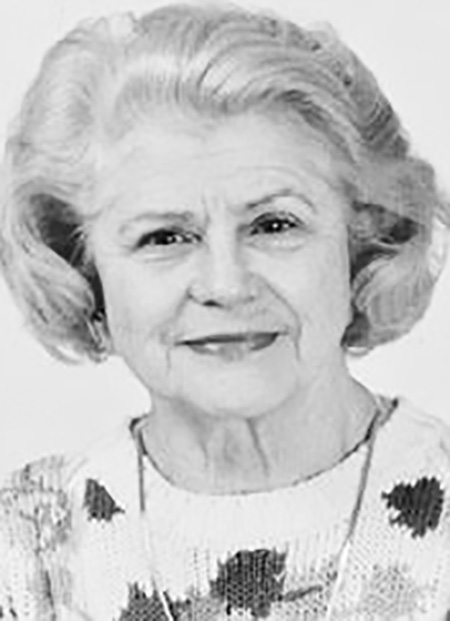 Aurelia Dance Lacy, of Blacksburg, passed away on June 9, 2023. She was 98. 
She was preceded in death by her beloved husband, Micajah Pennington Lacy; brother, Elbert Dance and sisters, Janye Powell, Marion Henderson and Evelyn Snead.  
She is survived by three sons, Michael (Linda), Frank (Janice) and Walter (Iris); eight grandchildren, Elizabeth Lacy Heffner (David), Adrienne Lacy Morales (Drew), Brittany Lacy (Thomas Donegan), Thomas Lacy, Danielle Lacy Hillenbrand (Brent), Micajah Lacy (Alica), Carmen Lacy, Reneé Lacy; and eight great grandchildren, James, Amelia and Isaac Heffner, Bennett and Aurelia Hillenbrand, Michael Morales, Dean and Olive Lacy. 
Aurelia was born in Halifax County, Va. on May 9, 1925 to Frank and Janie Dance and grew up on a small family farm there. During WWII, she moved to Washington, DC and worked in the Military Intelligence Division of the US War Department. She married Micajah in 1946 and moved to Blacksburg soon after. Aurelia worked to help support Micajah's pursuit of undergraduate and graduate degrees following which he served as a faculty member and administrator at Virginia Tech. 
Aurelia was a loving wife and mother remembered for her strong will, work ethic, grace and hospitality. She was highly competitive and loved playing (and usually winning) bridge and other card games with friends and family.     
She was a member of the Blacksburg Baptist Church where she directed the nursery for many years. Always involved in the community, she was an active member of the PTA, served many years as a Cub Scout Den Mother, was elected president of the Town and Country Garden Club and was a member of the Smithfield Guild. In later years she became interested in family genealogies resulting in her serving as Regent of the Allegheny Chapter of the Daughters of the American Revolution and a member of the National Society of Magna Carter Dames, Colonial Dames, Daughters of Colonial Wars, Jamestown Society and numerous other genealogical societies.                    
The family asks in lieu of flowers, memorials be directed to the Micajah P. Lacy Scholarship at Virginia Tech.